In this article, you'll learn all the different types of Nail guns, when and how to use explained everything with pictures. Also, don't forget to download the PDF file of this article at end of it.
What is Nail Gun?
The nail guns are simple power tool, that replaces the hammer and nail, and it runs the nail much faster than its manual counterpart. These are made to drive nails into wood (and other materials).
They are normally run by compressed air, flammable gas, or electromagnetism. Those who have no familiarity with nail guns may seem a bit confused while shopping at the store. Furthermore, read about various types of wrenches used in the workshop.
There are plenty of nail guns to pick from, pneumatic, battery, gas, framing, brad, finish, and the list goes on. There are many different types of nail guns, and each has its own individual use.
Types of Nail Guns
Following are the different types of nail guns and their uses:
Framing nailers

Cordless framing nail gun
Pneumatic framing nail gun
Gas framing nail gun

Roofing nailers

Cordless roofing nail gun
Pneumatic roofing nail gun

Flooring nailers

Cordless flooring nail gun
Pneumatic flooring nail gun
Manual flooring nail gun

Finish nailers

Cordless finish nail gun
Pneumatic finish nail gun

Brad nailers

Cordless brad nail gun
Pneumatic brad nail gun

Staple gun

Hand-actuated staple gun
Electric staple gun
Hammer staple gun
Pneumatic staple gun

Siding nailer

Pneumatic siding nail gun
Electric siding nail gun

Pin Nail Gun

Pneumatic pin nail gun
Electric pin nail gun

Special types of nail guns

Palm nail gun
Headless pinners
Read Also: 17 Types of File Tools Used in the Workshop: See How They Works?
#1 Framing Nailer
The framing nailers are heavy-duty nail guns designed to deepen long nails into wood. As the name suggests from their first objective, which is to make a housing frame.
These framing nailers are used on heavy construction jobs and wood framing in a building. They can work with nails up to 3-1/2, which are applied to join 2×4's.
1. Cordless Framing Nail Gun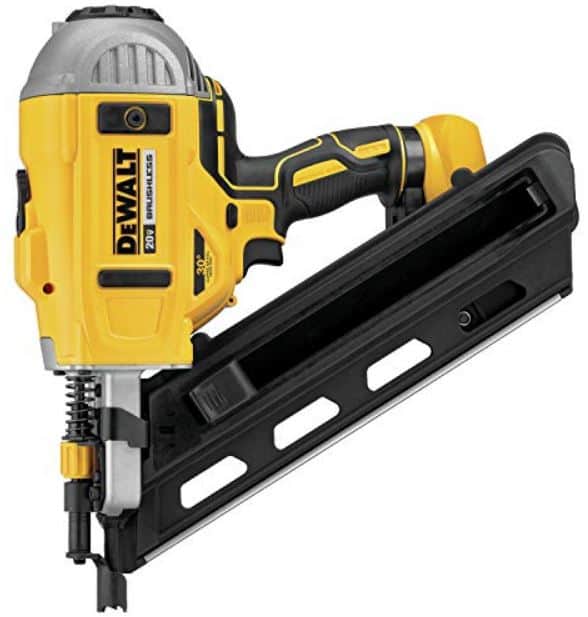 These nail guns are driven totally by battery power, these are made possible only by advances in battery technology. Framing nailer requires a 20-volt lithium-ion battery with a brushless motor to make enough punch. Simply keep multiple backup batteries to swap when needed.
2. Pneumatic Framing Nail Gun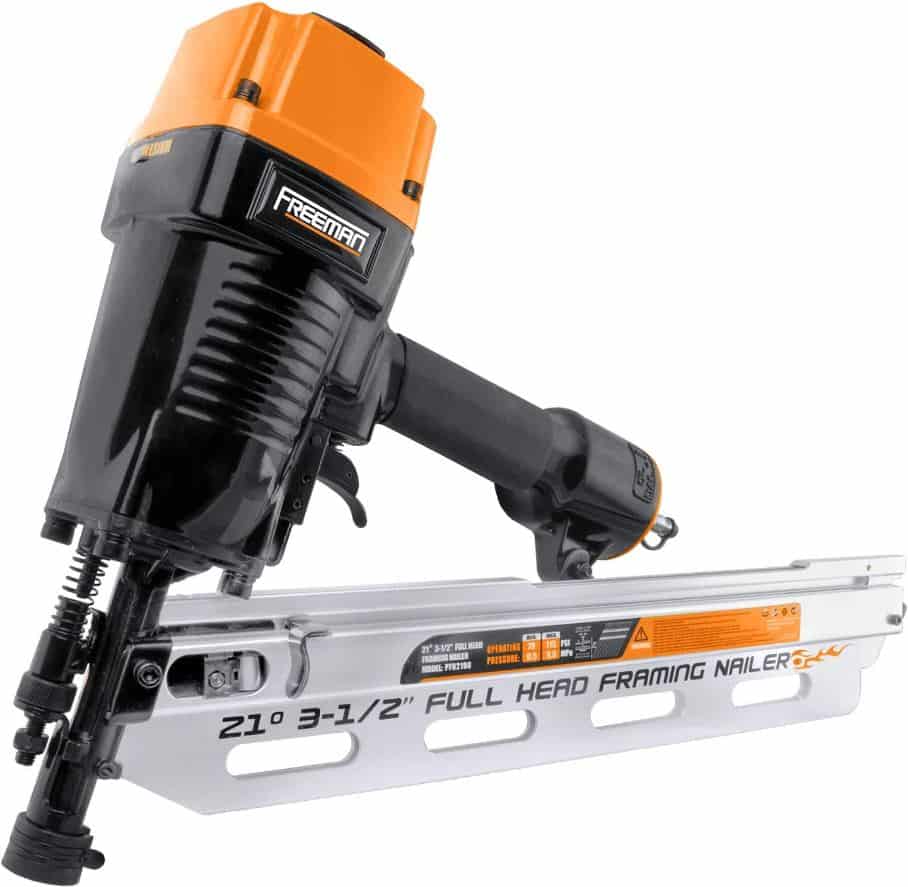 This is the most common framing nail gun is powered by an air compressor connected to the gun with a hose. This makes it lighter than other guns, but the range is limited to the length of the air hose.
3. Gas Framing Nail Gun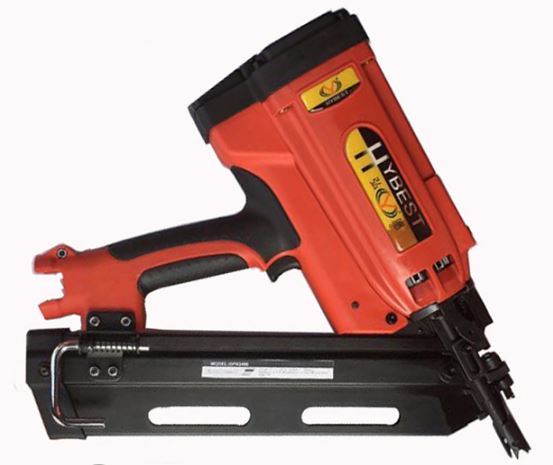 In this type of nail gun, a quick electric shock burns a gas cartridge to push the nails deeper into the wood. These nail guns were a popular choice to pneumatic guns and they remained until battery-powered guns became more reliable. Just make sure you have sufficient gas cartridges to complete your work.
#2 Roofing Nailer
The roofing nailers are also heavy, there are the same in appearance. They are usually used by professional contractors. A roofing nailer runs at lightning speed in wood. The roofing nailers are used only for roofing jobs and usually by professional roofers and contractors.
1. Cordless Roofing Nail Gun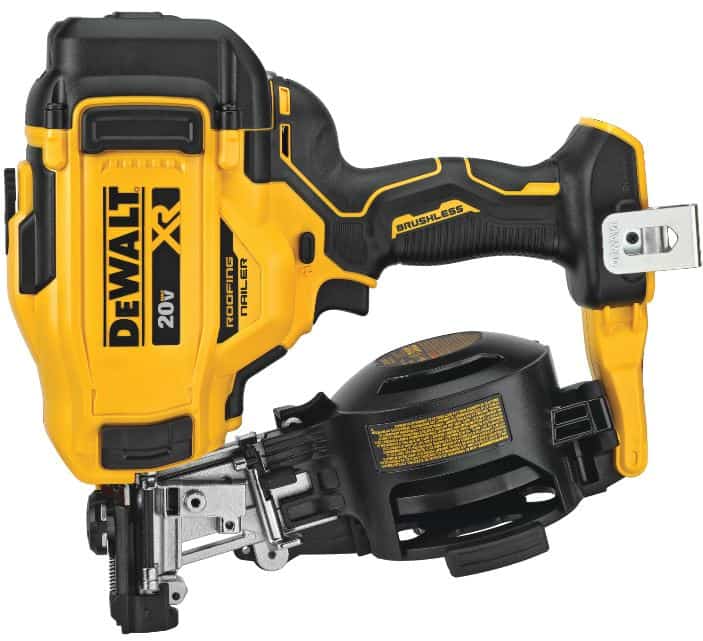 A cordless roofing nail gun provides considerable portability when you are working on the roof. The biggest drawback is that portable power sources such as batteries and gas cartridges will have to be taken with them. This means taking care of yet another thing.
2. Pneumatic Roofing Nail Gun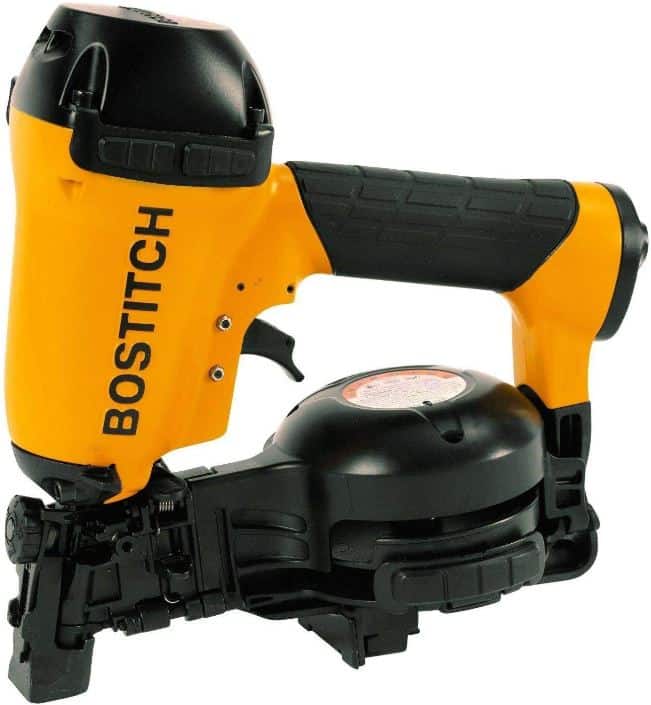 Connecting the nail gun to the air compressor provides secure access to power, but you sacrifice movement. This can be a very big thing given that you are working on a roof. On the other hand, you do not have to continuously exchange batteries or load gas cartridges.
Read Also: What is Hack Saw: Parts, Types, Blades, and More
#3 Flooring Nailers
Flooring nailers look very various from the common nail guns that most people are accustomed to seeing. These nail guns are made to do the quick work of laying on the tongue and groove floors.
The nailer is kept on the edge of the board, and a nylon mallet is applied to operate the plunger. This method assures that the nail is operated at the correct angle and depth each time. These are not as versatile as other nails, so they have no use other than laying flooring.
1. Cordless Flooring Nail Gun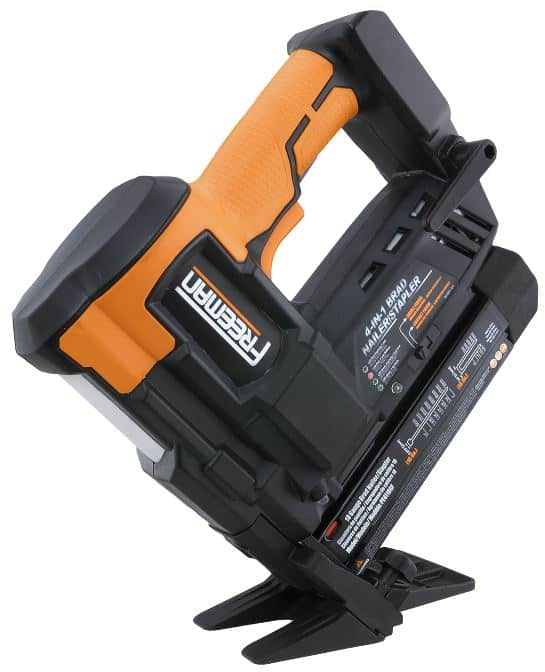 These cordless guns apply a gas cartridge, the battery produces an electric charge that burns it. These guns are more flexible than pneumatic. They are not yet as powerful or as fast.
2. Pneumatic Flooring Nail Gun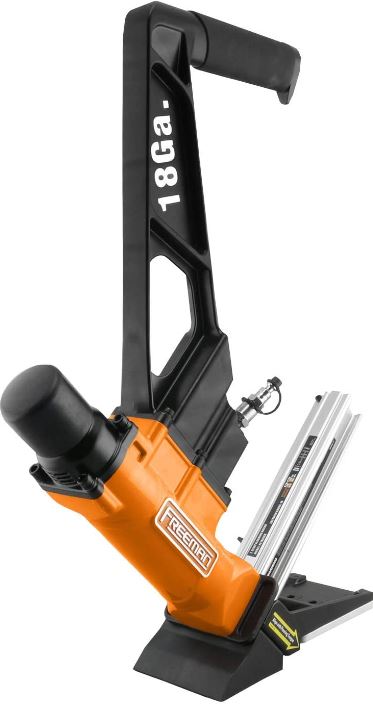 Air-powered nail guns are famous because their power is sufficiently consistent if you can work quickly if set properly on the floor. There is no need to exchanging gas cartridges. With all pneumatic instruments, however, you are limited to the air duct range.
3. Manual Flooring Nail Gun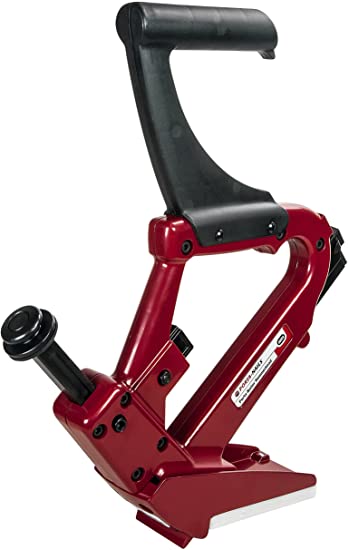 These move slower than their powered counterparts, but a manual flooring nail gun offers some pleas in mind. When you press into a nail give a satisfactory crunch and they are cheaper. It is also more comfortable to manage depth because the user is in control of the same.
#4 Finish Nailer
The finish nailer can also be used for carpentry work, they are manufactured to be applied with uniquely shaped nails. Finish nailers are often used for crown moulding and baseboards.
1. Cordless Finish Nail Gun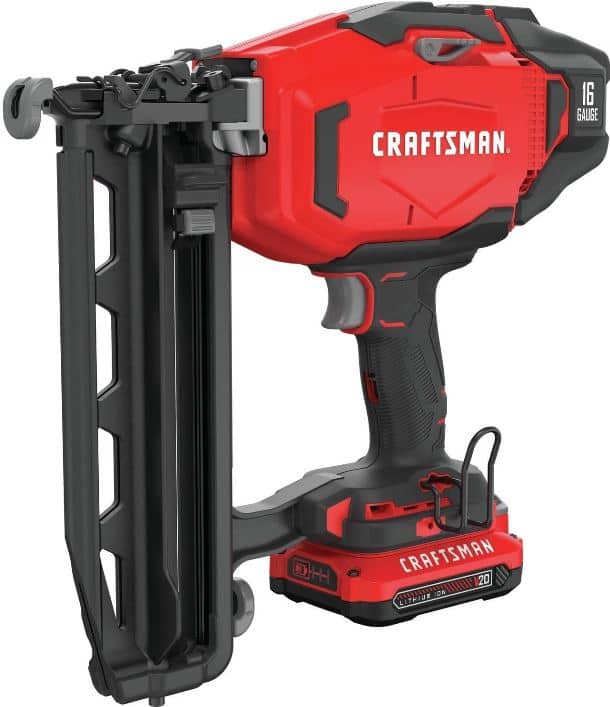 The cordless finish nail guns divided into two choices, straight and angled. A straight cordless nail gun will be applied for staple molding. And angled cordless nail guns are used for hard-to-reach corners. The cordless design improves maneuverability but doesn't need to replace the batteries because they expire quickly.
2. Pneumatic Finish Nail Gun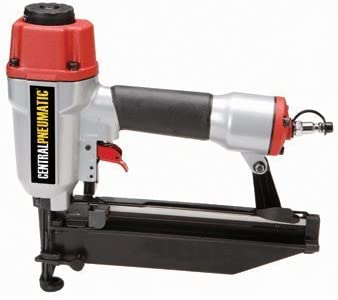 The pneumatic finish nail gun applies an air compressor to give continuous power. This allows a highly accurate finish. The hose limits your range, however, many times you need to move the air compressor.
#5 Brad Nailers
The brad nail is the tiniest nail utilized for cabinets, carpets, and light furniture. Since these nails are so small, hence they need a braided nail gun.
1. Cordless Brad Nail Gun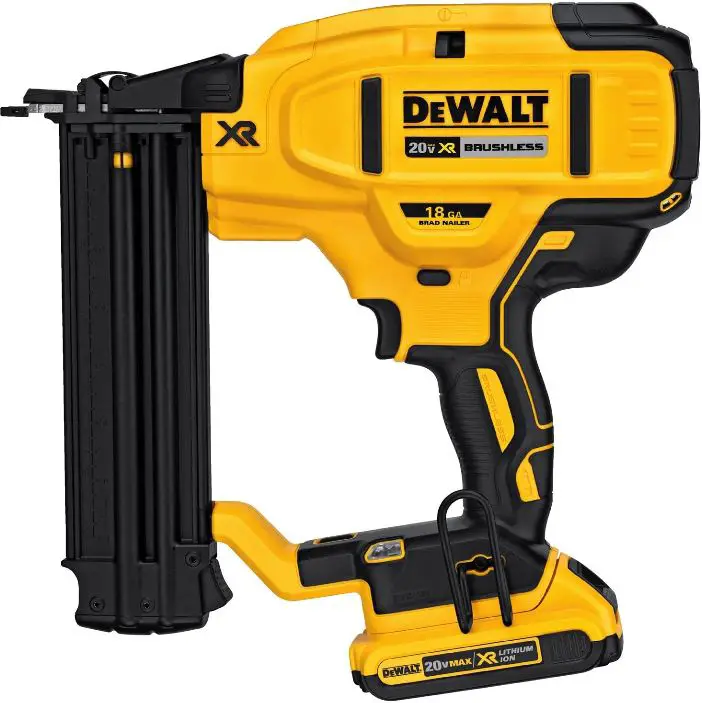 These types of nail guns are powered by batteries, which can make the device extremely powerful. The small size of the bread extends the life of the battery, but eventually, you have to replace the old battery with the new one.
2. Pneumatic Brad Nail Gun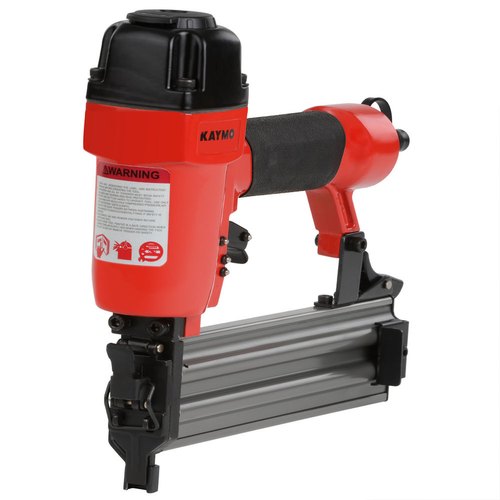 In pneumatic brad nail gun, it uses an air compressor to produce steady and reliable pressure for the brads. Recharge time for pneumatic braided nail guns is very short, and hose length is less of a problem as it is applied for jobs in proximity.
Read Also: 6 Various Types of Chisel Used in the Workshop: Download PDF and More
#6 Staple Gun
The staple guns are applied to suppress fasteners or staples, not nails on surfaces such as furniture or light carpets. Because staple guns do not use real nails, they are the tiniest of the nail guns. The four different types of staple guns are as below:
1. Hand-actuated Staple Gun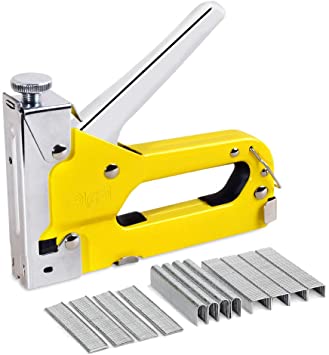 Handheld or Hand-actuated staple guns are easy and cheap, making them the most famous stable gun type. This staple gun is perfect for minimal work or outside work. It is also suitable for many staple sizes, making it more versatile. However, it may be more difficult to use than some other staple gun types.
2. Electric Staple Gun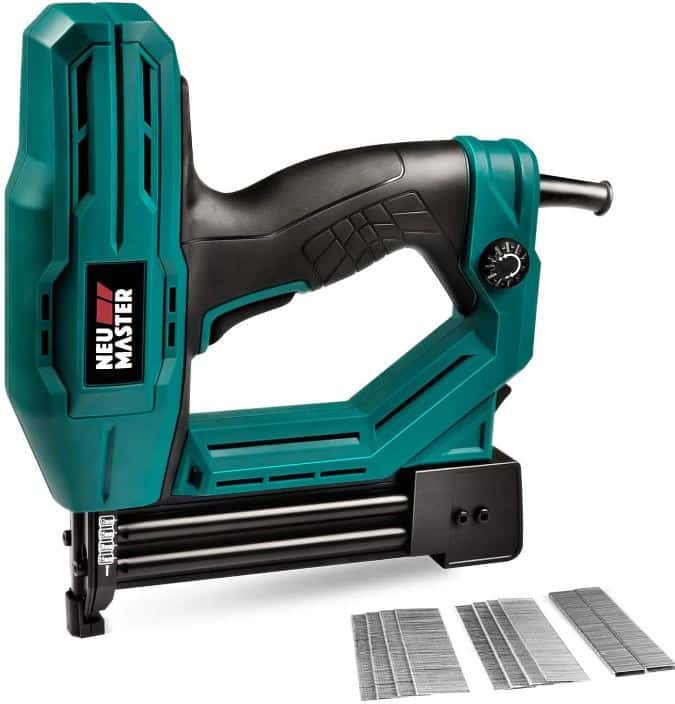 These types of stable guns are highly powerful. They give both power sources and fasteners and can work throughout the day with minimal power cuts. The main drawback of the electric staple gun is that it is more expensive than a manual staple gun.
3. Hammer Staple Gun

A hammer staple gun is a less useful type. It is useful to apply staples at a certain place. Although the hammer staple gun is suitable for some carpet cushioning and installation, it is simply not strong enough for most stable requirements.
4. Pneumatic Staple Gun
The staples are rarely required an air compressor power source, therefore a pneumatic staple gun will get the job done faster.
#7 Siding Nailer
This type of nailer is done for nail siding on the wall. That makes a special nail gun as it is used barely for siding jobs. It actually varies from other nail gun types due to its soft tip.
1. Pneumatic Siding Nail Gun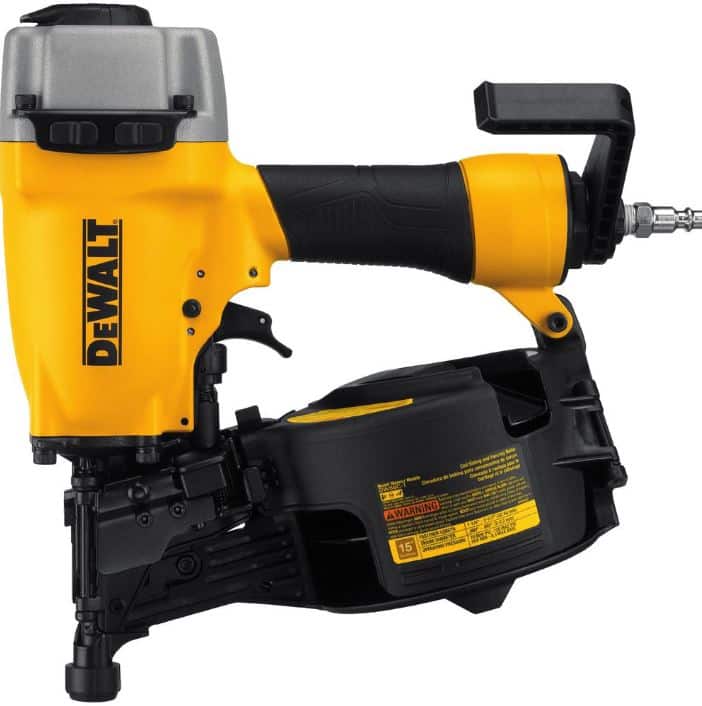 The pneumatic siding nailer is perfect for making siding nailing on a wall which gives consistent and strong pressure. Even though you will be unassisted by the length of the air hose. The air compressor produces pressure that will be perfect for wall siding needs.
2. Electric Siding Nail Gun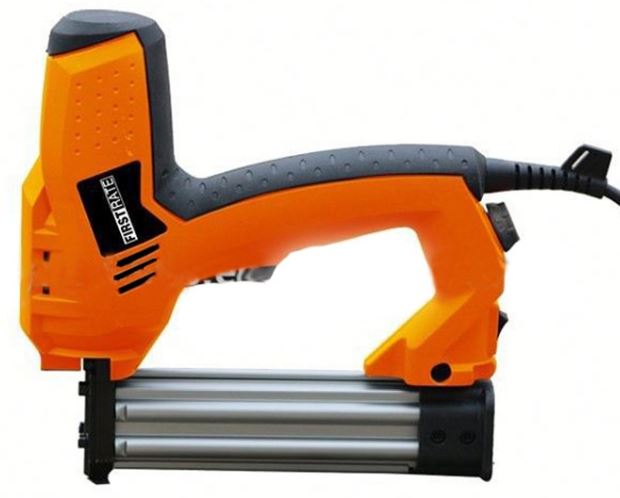 The electric siding nailer is come in usable for mobility and transportation purposes. You will not be limited to the length of the air compressor hose, but you will need to change the battery frequently. You can this siding nailer over large proximity.
#8 Pin Nail Gun
The pin nail gun is used for carpentry projects, they are the tiniest and give delicate finish nailers you can buy. These devices are compatible with 23-gauge headless nails that look like pins.
It doesn't have holding power and is commonly used in combination with glue. Sometimes, pin nails are only used to keep the material in place until the glue dries.
1. Pneumatic Pin Nail Gun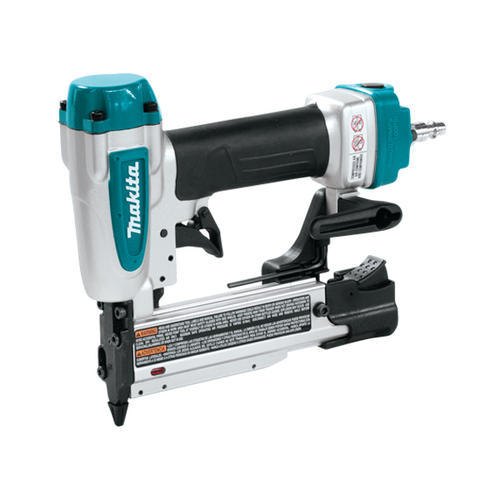 A pneumatic pin nail gun will get small, elaborate tasks done quickly and the close to the job site will reduce the impact of the air hose. Some people get a pneumatic pin nail gun completely useless. Because these jobs are more sensitive and do not need much power.
2. Electric Pin Nail Gun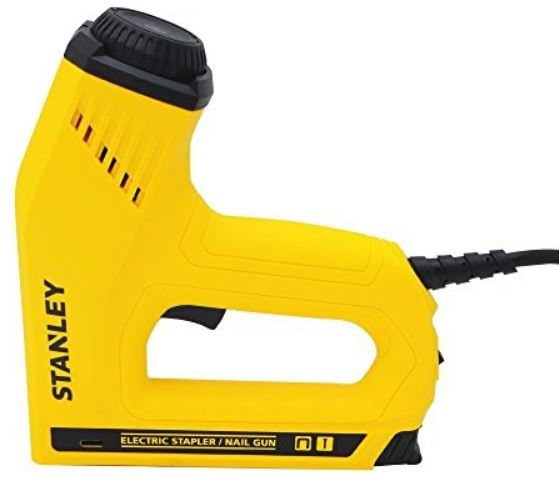 An electric pin nail gun is helpful for transportability usage. This allows work with small craft, reducing the need for an air compressor. Even though requires extra batteries, the lighter size of the pins should maximize their lifespan.
#9 Special Types of Nail Guns
All of the nail guns noted above are manufactured with a specific function, but they can be applied for a kind of purpose. These special nail guns are different from these standard types. They are made for highly specialized purposes.
1. Palm Nail Gun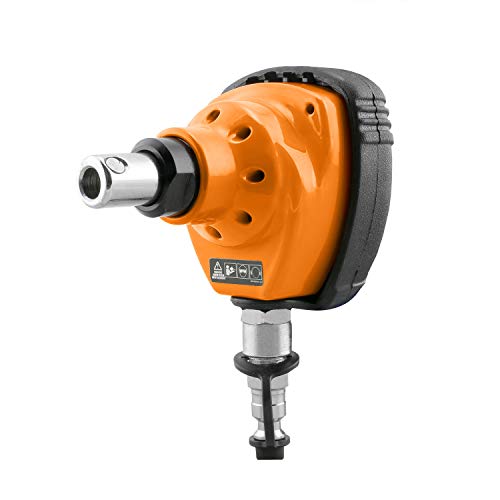 The palm nailers are related to mini nail guns. These palm-sized nail guns function similarly to their full-size counterparts, but on a much smaller scale. These nailers hold in the palm of the hand. There is a strap that wraps around the arm, so it remains comfortable during use. These palm nail guns available in pneumatic, electrical, and cordless variations. Cordless variations, which run on batteries, give greater ease and portability.
2. Headless Pinners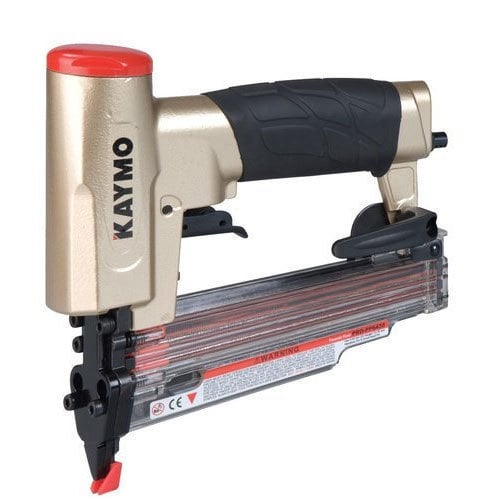 Pins are different from nails, so they require a separate tool to press into a surface. Headless pinners are specially manufactured to press pins into small workplaces. They typically used in such cases as picture frames or in a thin molding.
Download PDF of this article
Conclusion
As you know now, a nail gun is a hand power tool made to turn nails into an object or workpiece. They are usually driven by compressed air, flammable gas, or electromagnetism.
So now, we hope that we have clear all your doubts about Nail Gun. If you have still any doubts about the "Types of Nail Guns" you can ask in the comments.
If you like our article then please share it with your friends. Have any questions about any topic feel free to ask in the comment section.
Finally, subscribe to our newsletter to get notified.
Explore more articles in our blog:
Image Credits: Alibaba.com, dewalt.com, and freemantools.com