Hello readers! In this post, we'll discuss the different types of spanners and their uses using illustrations.
Spanners are typically made from carbon steel or drop-forge steel. These are made in a variety of shapes and sizes to accommodate the needs of the customer.
So let's first define what a spanner is.
Spanners and It's Types
Spanners are used more than any other tool for tightening or loosening different jobs. These are generally made of drop forge steel or carbon steel. These are made in different shapes and sizes, according to requirements.
The phrase "spanner wrench" is not needed because the British and Americans both use the word "spanner" to describe the same tool. The C spanner is the most popular type of spanner. Its open head resembles the letters C, and its jaws are the same size as walnuts.
On the other hand, ring spanners have an entirely enclosed ring that tightly fits on a hexagonal or square bolt. The ring spanner offers much stronger leverage than open spanners, but it can take time to position it correctly.
Before using, check that the spanner wrenches are the right size and are properly seated around the nut. Otherwise, it might come off the wrench, hurt your hand, or damage the tool. To help fix leaky pipes or faucets, a spanner is frequently used in the plumbing.
Apart from that, screwdrivers are also used for tightening and loosening any given job or screw. In the workshops, usually, the following types of spanners are used.
Also, you can check out our guide on different types of hammers used in the workshop.
You might like: What Are The Tools Used In Workshops?
Types of Spanners
Following are the different types of spanners:
Open-end or single-end spanner
Double-ended spanner
Ring spanner
Socket spanner
Box spanner
Combination spanner
Hook spanner
Adjustable spanner
"T" Socket spanner
Magneto spanner
Allen key
Pin face adjustable spanner
Read Also: 13 Different Types of Threads [Complete Guide] with Images
#1 Open End Spanner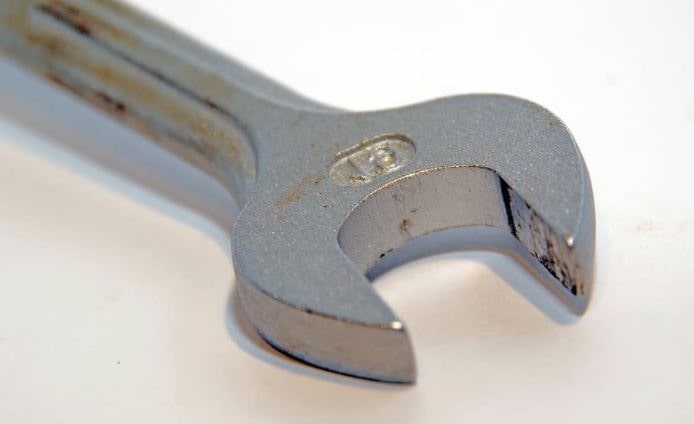 In these types of spanners, only one end is open, in which the nut or bolt head is gripped too loosely or tightly. It is also known as a single-end spanner. Their size is taken from the distance between their jaws. Thus the selection of a spanner is made according to the distance between the opposite sides of the nut or bolt.
Advantages
Open-ended spanners can be used in small spaces.
There are many different sizes of open-ended spanners that can fit different types of nuts and bolts.
Disadvantages
Only the flat surfaces of the nut or bolt are gripped by open-ended spanners.
Compared to other types, open-ended spanners typically have a lower torque rating.
#2 Double-End Spanner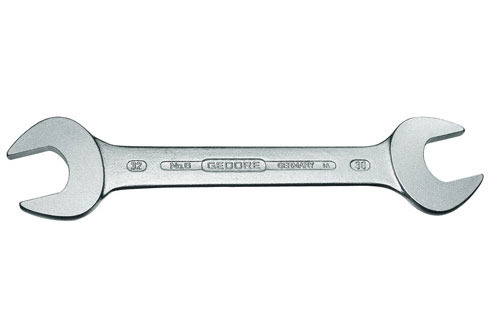 In these types of spanners, open ends are made at both ends to hold nuts or bolts heads in them. These two ends are made at angles of 15 to 30 degrees from the in-between body. These types of spanners are the most widely used.
Advantages
They can fit various nuts and bolts because they have two different-sized ends.
It lowers the chance of slipping or rounding by giving nuts and bolts a firm grip.
Disadvantages
These spanners are typically straight, so they might not be able to reach nuts and bolts in confined spaces.
Although there are many different sizes of double-ended spanners, not all nuts and bolts may fit with them.
#3 Ring Spanner
In these types of spanners, one or both ends are made of round rings to drip nuts and bolts in order to tighten or lose them. These rings are bent down in the opposite direction from each other.
Inside these rings, projected teeth are built with which six-sided nut bolts can be easily gripped. As it grips all the sides, it does not slip. There are some ring spanners whose ends are not bent.
Advantages
Because a ring spanner's closed end fits tightly over the nut or bolt, it is simpler to loosen or tighten challenging fasteners.
Unlike other wrenches, this spanner can reach any part and loosen fasteners at any angle.
Disadvantages
Ring spanners are less suitable for tight spaces, hard-to-reach fasteners, union nuts, and line connections.
#4 Socket Spanner
These types of spanners are in the form of a round socket. On one end of this spanner, a square hole is made. On the other end, grooves are cut outside in nut-bolt size, as in a ring spanner.
In the square hole, the Tommy bar is fixed, whose shape is also square. These spanners are used where because of the paucity of space e ring spanners cannot be used. Besides this, socket spanners are also used where nut bolts are to be tightened by measuring them with a torque wrench.
These are available in small and big sizes in the form of sets. Tommy bar, Universal Tommy, and Ratchet Tommy, along with these spanners. With their help, nut bolts of slanting, straight or congested spaces can be tight or loose.
Advantages
To tighten and loosen standard fasteners, socket wrenches are a common hand tool.
With less effort and fatigue, the user can apply torque with this spanner design.
Disadvantages
They aren't made to handle much torque, and too much force can harm the socket or the fastener.
A socket spanner can slip and harm the fastener or the tool if it is not correctly positioned with the nut or bolt.
You might like: What are sunk keys? And how it works?
#5 Box Spanner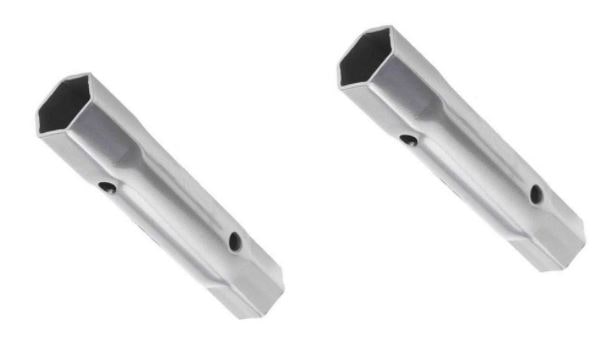 These are made of thick or thin pipes. On one end or both, the ends of this spanner's six sides are made, in which nut bolts with six phases are easily gripped. Holes are made across the rod on one, or both ends where a rod can be put and used as a handle. It is used in deeper spaces.
Advantages
Box spanners are made to fit nuts and bolts in places other spanners might be unable to.
An entire box spanner's closed-end completely encloses the nut or bolt, shielding it from debris or unintentional impacts.
Disadvantages
The box wrench's main drawback is that you have to slide it over the end of the nut or bolt to use it.
Box wrenches can cost more than open-ended wrenches, and since they are not adjustable, you need to buy a complete set.
#6 Combination Spanner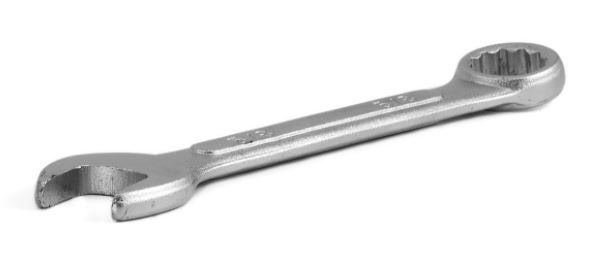 On one end of this spanner an open-end spanner, and on the other end ring spanner is made. At both these ends, the spanners are of equal size.
Advantages
Combination spanners are adaptable and suitable for various tasks because they have two ends: an open and a closed end.
Combination spanners are made to fit nuts and bolts in spots that other types of spanners might be unable to reach.
Disadvantages
Combination spanners come in various sizes, but not all nuts and bolts may fit with them.
Combination spanners should only be used on straight, easily accessible nuts and bolts.
#7 Hook Spanner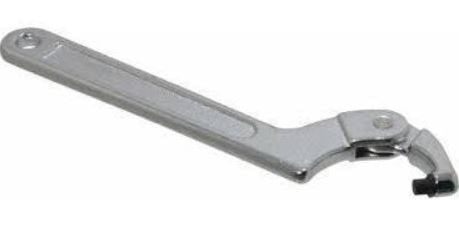 These spanners are made for those nuts which do have holes on their periphery. There are no faces on these nuts. Thus the pin of this spanner gets fixed in the hole and performs the function of revolving it for opening or tightening it.
Advantages
Hook spanners are made to be applied to nuts, bolts, and other fasteners that have slots or holes in them.
Hook spanners have an end with a C shape that slides into the fastener's slots or holes to provide a tight grip.
Disadvantages
Since they are made to fit fasteners with slots or holes, they might not work with fasteners without these features.
 Hook spanners might not be able to match the torque of box spanners or socket spanners.
#8 Adjustable Spanner
These are special types of spanners. It is also known as a screw wrench. Its jaws can be expanded or narrowed down to tighten or loose the nut bolts. They are used for those nuts where no other spanner fits well.
Advantages
An adjustable spanner's opening width can be adjusted to fit any fastener size.
Adjustable spanners are incredibly useful because they eliminate the need for multiple-size tools.
Disadvantages
This spanner has the drawback of being less stable than a fixed-size wrench, which makes it easy to hurt yourself or harm the fastener.
You might like: What Are The Different Types of Screws & Their Uses?
#9 "T " Socket Spanner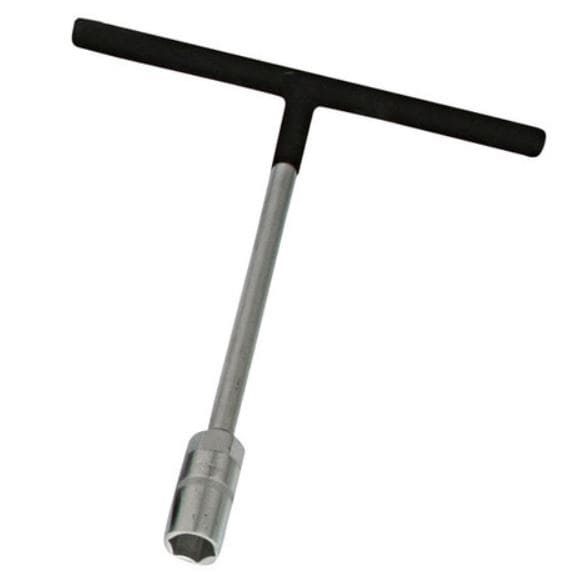 These types of spanners are almost similar to the box spanner, but it has a fixed hand on the top, and at the bottom, a socket is built. These sockets are of different sizes. They are used in deep spaces.
Advantages
Due to its comfortable height, this tool ensures the operator the most ergonomic use possible.
This spanner is made from specially forged steel that has been galvanized for increased durability.
Disadvantages
The bulky design of T socket spanners can make them challenging to use in confined spaces or places with little room for positioning.
#10 Magneto Spanner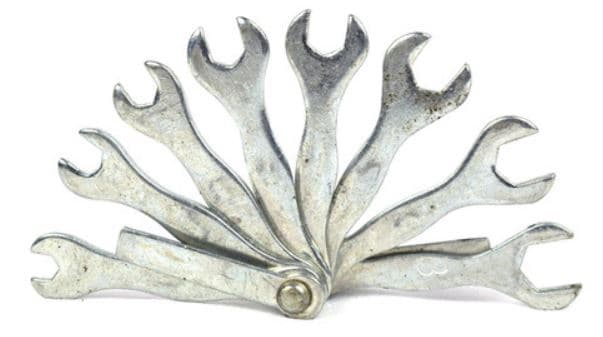 It is a bunch of small-sized single-end spanners. Spanners of different sizes are tied together for tightening or opening small nut bolts.
Advantages
With the help of their magnetic tip, magneto spanners can install and remove spark plugs safely.
Magneto spanners are simple to use and don't require much knowledge or experience.
Disadvantages
These can only be used for removing and installing spark plugs; they are not intended for use in other automotive or mechanical processes.
#11 Allen Key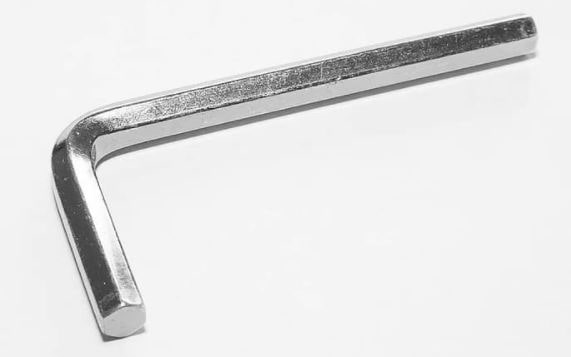 Allen keys are thin steel rods with six faces bent at 90° angles from one end. They have a hole of six faces on the upper side. Such bolts perform the function of tightening while keeping the surface of the job equal. These are available in numbers and sets of different sizes.
Advantages
Allen keys prevent unintentional fastener stripping.
Because they are used with hexagonal fasteners, they will "grip" fasteners better than other standard screwdrivers and wrenches.
Disadvantages
Allen keys are available in various sizes but may not fit every bolt or screw.
When working with small or tight bolts or screws, Allen keys can be challenging to grip.
#12 Pin Face Adjustable Spanner
This type of spanner is made by joining two legs and a rivet. At the end of its legs pin is fitted on each leg. It is used on round nuts having holes in the periphery to receive the spanner pin. The distance between its leg can be enlarged or narrowed down to use it on all types of nuts.
Advantages
Pin spanners are made to grab the fastener's sides, not its corners or edges.
Pin spanners are compact and lightweight, making them convenient to use in confined spaces or on the go.
Disadvantages
Since pin spanners typically don't have a lot of torque, they may not be as efficient for tasks that require a lot of force.
Pin spanners can be challenging to use in confined or challenging locations, mainly if the fastener is at an odd angle.
Size of the Spanner
All kinds of spanners are used to dismantle or tighten nuts or bolts of a specific size. All spanners are in units of mm and inches. Millimeter spanners are available in variations of 7mm.
Similarly, inch spanners are available in 1/16 and double-ended, and ring spanners are mostly in sets of 6, 8, 12, and 36. In a set of 6 spanners in inch spanners, the double-ended and ring spanners are available in the following sizes.
1 X 15/16 inch, 7/16 X 13/16 inch, 3/4 X 11/6 inch, 5/8 X 19/32 inch, 1/2 X 9/16 inch and 3/8 X 7/16 inch.
Similarly, millimeter spanners are in numbers. In double-ended and ring spanners, on one side, one number is written, and on the other, one number is more than that is written. Socket spanners are available in different sizes.
Download PDF of this article
---
Conclusion
As you know, Spanner is a tool that provides mechanical grip and an advantage in applying torque to turn nuts and bolts.
So now, we hope that we have cleared all your doubts about Spanner. If you still have any doubts about the "Types of Spanners," you can contact us or ask in the comments.
If you like our article, then please share it with your friends. Have any questions about any topic, feel free to ask in the comment section.
Lastly, subscribe to our newsletter to get notified when we upload new posts.
Checkout our more article lists on tools: