In this article, you will learn what are different types of clamps? How to use them? and applications of clamps. You can also download the PDF file of this article at the bottom of it.
What is a Clamp?
A clamp is a type of workshop tool that is used to hold material in place or to hold several materials together. They help secure these materials for precise cutting or joining. These are essentially used in applications such as woodworking, metalwork, and construction.
There are many different types of clamps available to look at, even though all clamps perform the same function. But, since it is not possible to use a single clamp type for all these applications.
So if you're don't know about clamps, you'll be confused finding a set of different types. This article gives you a complete list of clamps. So let's know what they are.
Read also: What are the different types of Nuts and Bolts?
Types of Clamps
Following are the types of clamps:
Beam clamp
Bench clamp
Bench vise
Cabinetry clamp
Cardellini clamp
Corner clamp
Dimide clamp
Drill press clamp
Flooring clamp
G or C clamp
Ground clamp
Hand screw clamp
Hose clamp
Hydraulic clamp
Kant-twist clamp
Locking clamp
Marman clamp
Material handling clamp
Mitre clamp
Parallel clamp
Picture frame clamp
Pinch dog
Pipe clamp
Power or pneumatic clamp
Quick grip
Quick action clamp
Sash clamp
Scissor clamp
Screw clamp
Sheet metal clamp
Sliding clamp
Spring clamp
Step clamp
Toggle clamp
Trigger clamp
Web or strap clamp
Wire rope clamp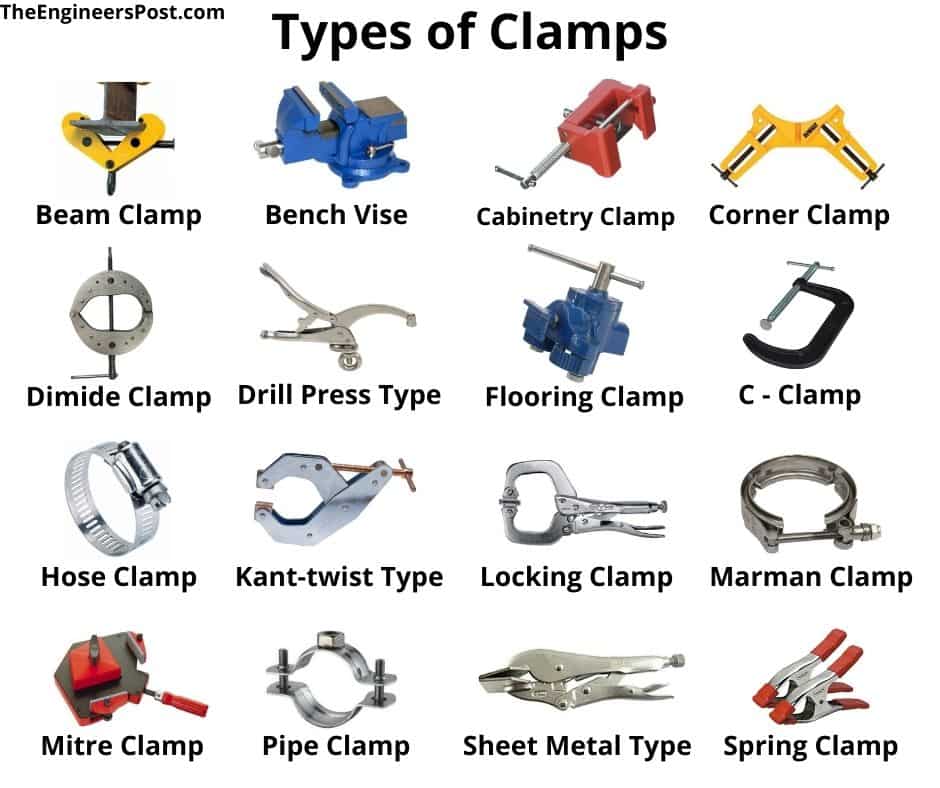 #1 Beam Clamp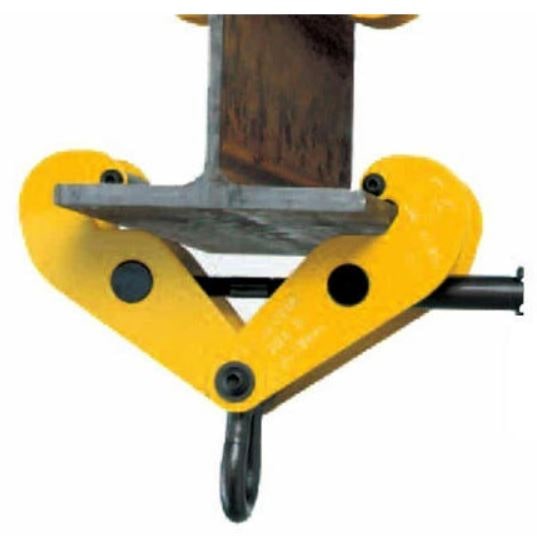 Beam clamps are a type of clamps used for lifting steel beams and plates. These are perfect for lifting heavy loads. They allow secure fixing without the need for welding and drilling. It is desirable to use this type of clamp on a pitched beam.
Applications of Beam Clamp
Air ducts, pipes, and other HVAC system parts are fastened to a building's structural beams using beam clamps.
It can be used to install suspended ceilings by fastening suspension wires to a building's structural beams.
#2 Bench Clamp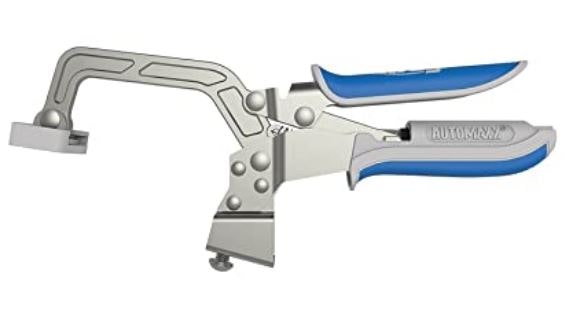 These are types of clamps used to hold a piece of metal or workpiece on a bench and are commonly used in woodworking. Bench clamps are made of metal and can be available in a variety of sizes and designs.
In this, the bench forms the fixed jaw of the clamp. These woodworking clamps are perfect for fixing wood during cutting, drilling, or planning. They are cheaper in cost and are essential in carpentry work.
Application of Bench Clamp
In woodworking, bench clamps are frequently used to hold wood pieces while cutting, drilling, or sanding.
Circuit boards, wires, and other small parts can be held in place while working on electronic devices using bench clamps.
#3

Bench Vise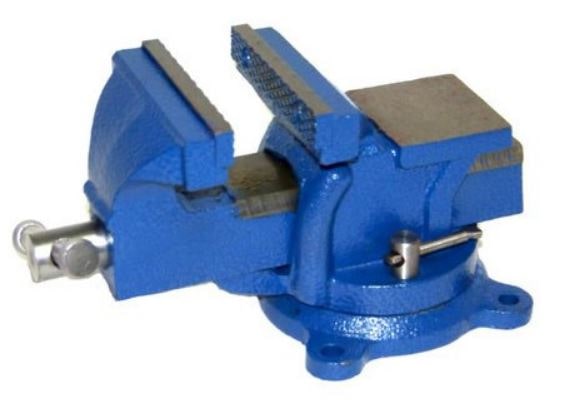 These are types of vises, that also perform the same function as clamps. It has a movable jaw as well as a fixed jaw that can be easily adjusted using screws and has an upward-facing clamp that is loosened or tightened by means of a lever.
Some bench vises are portable and can be screwed onto the workbench, which can be easily undone to move the vise to another location. These are heavy-duty tools commonly used in woodworking. They hold projects if you are sawing, drilling, sanding, or leveling them.
Applications of Bench Vise
In metalworking, bench vises are used to hold metal pieces while they are being cut, ground, or welded.
Plumbing professionals can use bench vises to hold pipes and other materials while soldering or cutting them.
#4

Cabinetry Clamp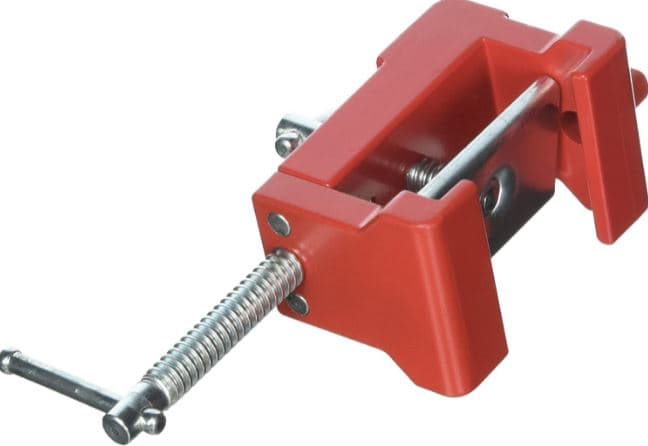 These clamps are commonly referred to as aligners. Cabinetry clamps hold two adjacent cabinets so that the face frames are identical to screw them together. This is achieved by applying a clamp load to the two axes. Cabinetry clamps are perfect for woodworking applications.
Applications of Cabinetry Clamp
Cabinets are built using cabinetry clamps, which hold the various components together while the glue dries.
To keep the various pieces of furniture together while the glue dries, cabinetry clamps are used.
#5

Cardellini Clamp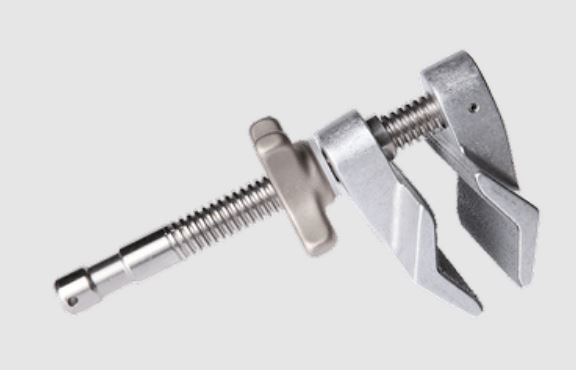 Cardellini clamps are designed to keep the tubing in place while it works. Because of the style, they can be used on square, round or rectangular tubing and can also hold flat items in places such as plywood or sheet metal.
They are used in tight spaces due to their strong, long shape and can be inserted anywhere with a range of at least two inches. Clamp grips are particularly sensitive to damage the object when secured too tightly, so care should be taken while working with them.
Applications of
Cardellini Clamp
Cameras and other equipment can be mounted to tripods, pipes, and other surfaces using Cardellini clamps.
Lighting fixtures can be mounted to various surfaces, such as pipes or light stands, using Cardellini clamps.
Read Also: Different Types of Springs and Their Applications [PDF]
#6

Corner Clamp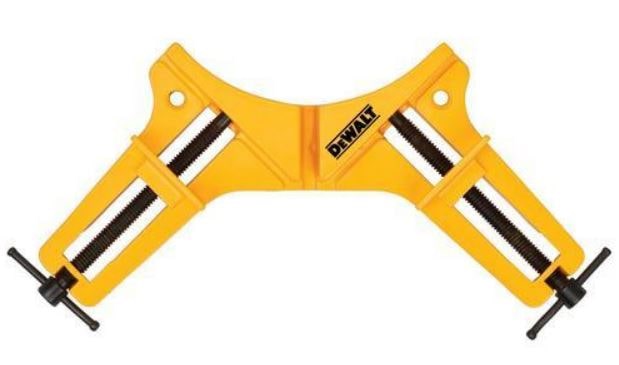 If you are seeking to secure the joints of two workpieces at 90-degree angles, you need a corner clamp. They are designed to be used for corner joints, so they may not be perfect for other general applications.
Application of Corner Clamp
Picture frame corners are held together with corner clamps while the glue dries.
While the glue dries, corner clamps are used to hold windows and doors together.
#7

Dimide Clamp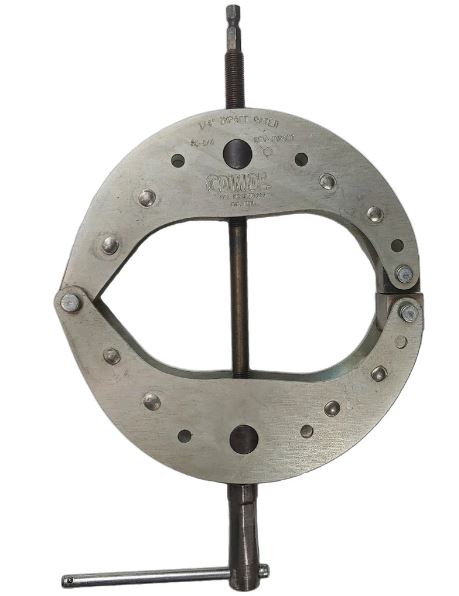 This is a heavy-duty clamp, designed to be used for combining speed and power through the impact of a wrench. The T-handle of the dimide clamp is removable and has a hex head that allows the clamp to adjust easily while fitting in tighter gaps.
These are reliable clamps and are used for preventing parts slippage, squeezing parts together, and removing clamp obstacles from the production line.
Applications of Dimide Clamp
In metalworking, dimide clamps are used to hold metal pieces together while they are being welded, cut, or machined.
For holding materials together while they are being cut or installed, construction workers use dimide clamps.
#8

Drill Press Clamp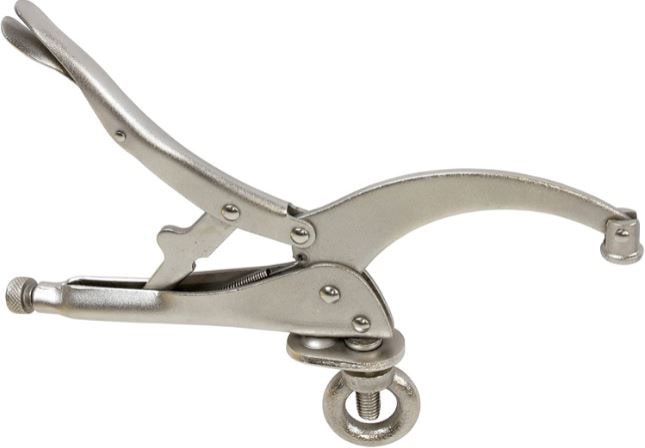 These types of clamps are designed to be used in drill press tables to hold material in place, which allows users to make very precise and clean cuts.
The clamp is easily adjusted and also releases quickly to create a perfectly tight and firm fit. This feature makes it very secure and precise when working in a drill press.
Application of Drill Press
In the metalworking industry, drill presses are used to drill holes in metal objects like steel plates, pipes, and rods.
In machining operations, drill presses make holes in various materials, including ceramics, composites, and plastics.
#9

Flooring Clamp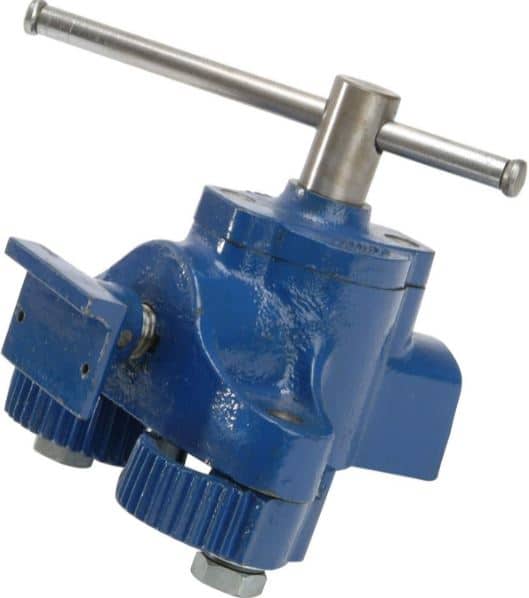 Flooring clamps are large clamps that are used when a carpenter is installing flooring. They help hold the tongue-and-groove boards in place so they can be pulled down securely, and in the meantime, they won't move so that they will be mounted exactly in place.
They are not versatile, which is the only function they perform, although they do it very well. Flooring clamps can hold more than 10 boards at a time.
Application of Folding Clamp
To hold materials together for arts and crafts projects like painting or sewing, folding clamps are also employed.
When doing home improvement tasks like painting, tiling, or installing trim, folding clamps come in handy for holding materials together.
#10

G or C Clamp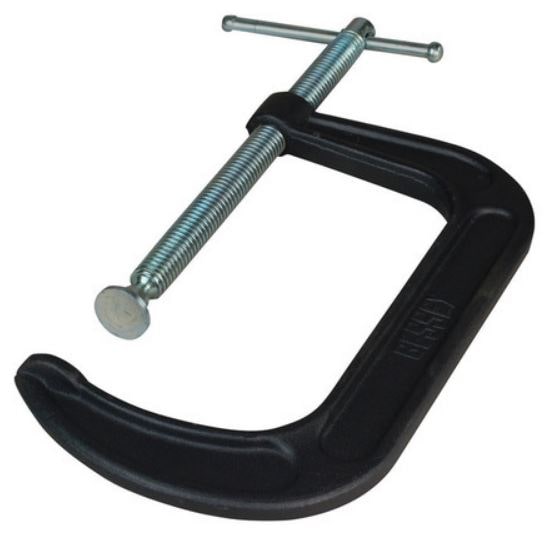 These are the most common types of clamps, used to clamp two pieces of a project together or to hold a workpiece to a table. They are known as G clamps or C clamps because of their shape which resembles these capital letters.
The 'C' part of the clamp revolves around your work and a longer screw being turned to tighten the jaw and make the clamp secure. The screw section can usually stick to irregular surfaces because of its swivel head.
Application of G or C Clamp
In woodworking, G or C clamps are used to hold wood pieces together while they are being glued, screwed, or clamped.
When working on DIY projects like building shelves or tables, G or C clamps are handy for holding materials together.
Read Also: What are the Different Types of Nails and Their Uses?
#11 Ground Clamp
These clamps are used to secure grounding wires to grounding rods and pipes. They are typically used to perform grounding and for special tasks such as welding and aircraft refueling.
There are different types of ground clamps available according to the construction of the ground wire. Ground clamps can also be mounted to existing metal plumbing pipes to provide a ground path for electricity during a ground fault or short circuit.
Application of Ground Clamp
In electrical wiring, ground clamps are used to join a grounding conductor to the grounding electrode, which is typically a metal rod driven into the ground.
Ground clamps are used in welding to create a safe and secure electrical connection between the welding machine and the workpiece.
#12

Hand Screw Clamp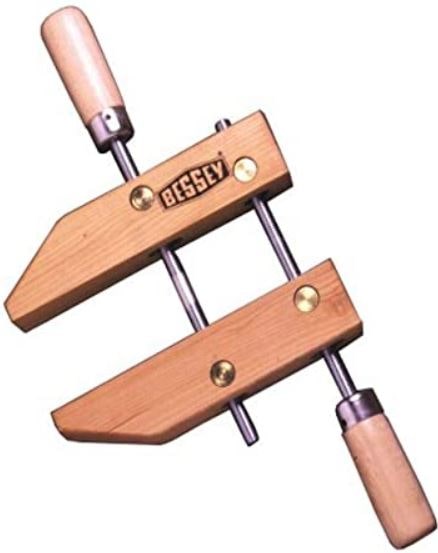 Hand screw clamps are commonly used in metalworking. The clamp jaws can be easily adjusted to fit and hold angled materials in place, so they are ideal for repairing furniture.
These types of clamps are made from steel, which makes them strong and long-lasting. However, some companies are now making them in wooden versions also. These are also known as toolmaker clamps.
Applications of Hand Screw Clamps
In bookbinding, hand screw clamps are used to keep a book's pages together while the spine is being glued.
A printing plate or block is held in place while being inked or printed using hand screw clamps in the printmaking process.
#13

Hose Clamp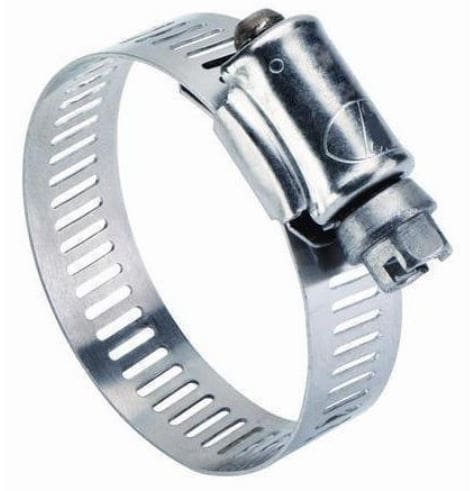 Hose clamps are small circular-type clamps made from aluminum or thin metals and can be tightened with a small screw. It is used for the purpose of holding cables together or materials of similar size.
They are optional tools for cable ties or duct tape but have the advantage of lasting longer due to the metal construction. They can be used in a variety of applications around the home or in vehicles.
Applications of Hose Clamps
In automotive applications, hose clamps are used to hold hoses in place, including radiator hoses, fuel lines, and vacuum hoses.
In heating, ventilation, and air conditioning (HVAC) systems, hose clamps are used to hold hoses to fittings, such as those in ductwork, refrigeration lines, and exhaust systems.
#14

Hydraulic Clamp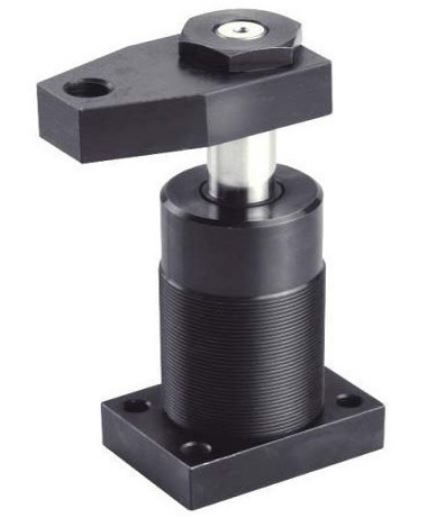 The hydraulic clamp is similar to a pneumatic clamp. This type of clamp uses hydraulic power or pressurized liquid to apply a clamping action. These clamps are perfect for control and high clamping load.
Application of Hydraulic Clamp
Workpieces are securely held in place during machining operations like milling, drilling, and turning using hydraulic clamps in manufacturing applications.
Workpieces are held in place while being welded using hydraulic clamps in welding applications.
#15

Kant-twist Clamp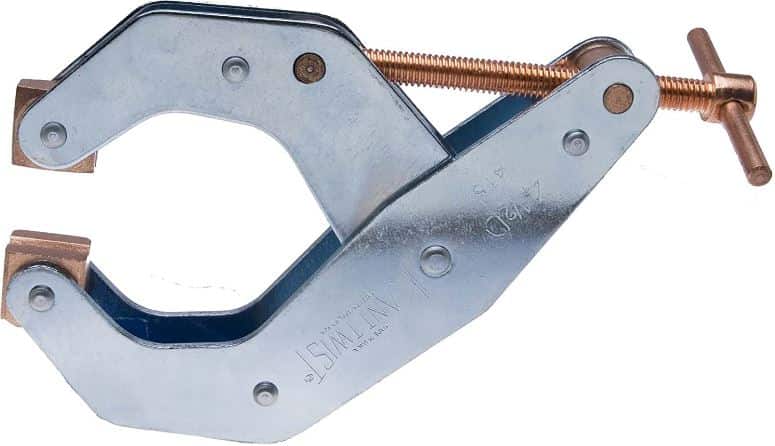 These are relatively small clamps that are used to hold a wide range of materials in place. Kant-twist clamps are especially useful in wood and metalworking.
They are designed like "C clamps" and have an angle set so that they can hold material that does not work parallel to each other. These are very strong, firm, and easy to operate but offer a wide range of motion.
Applications of
Kant-twist Clamp
In woodworking, kant-twist clamps are used to hold wood pieces together while they are being glued, screwed, or clamped.
Circuit boards and other components are held in place by kant-twist clamps during the assembly and testing of electronic devices.
Read Also: 16 Different Types of Measuring Tools and Their Uses
#16

Locking Clamp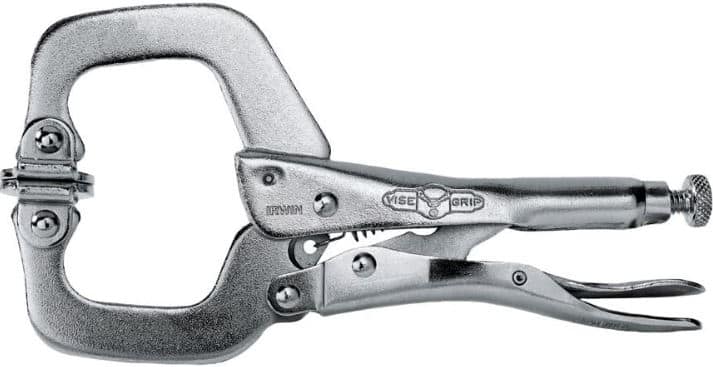 A locking clamp is a combination of a plier and a C-clamp. It consists of C-shaped jaw clamps and tightens the workpiece by applying pressure to the lever. The locking clamps are ideal for quick use because it has a one-handed design. These clamps are often used in welding jobs and woodworking projects.
Applications of Locking Clamp
Body panels, fenders, and other parts are held in place while being repaired or replaced using locking clamps in the automotive repair and restoration industry.
#17

Marman Clamp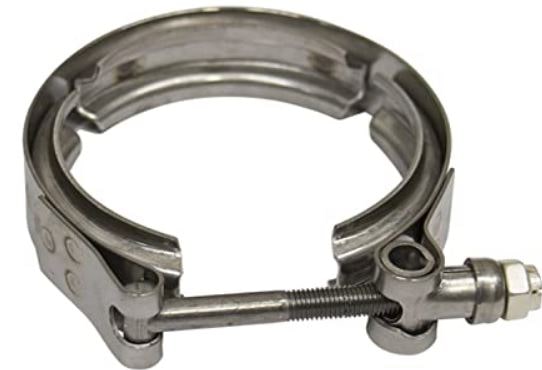 These are types of clamps, which are circular in shape and have a grip on them. These are very similar to hose clamps, allowing the user to clamp cylinders together. Marman clamps look like rings and are available in various styles and sizes.
These clamps are also great when you need to hold two objects close together. As these clamps are stronger, they are often used when working with fuel lines in aircraft.
Applications of Marman Clamps
Marman clamps are used to connect exhaust components, air ducts, and other components in aircraft.
Marman clamps are used in marine applications to affix pipes, hoses, and exhaust parts together.
#18

Material Handling Clamp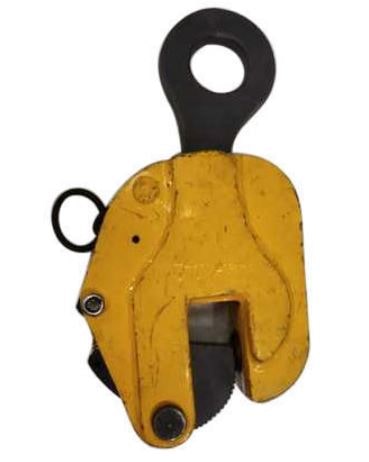 As the name suggests, material handling clamps are used to hold heavy materials that are usually lifted or handled. These clamps may provide certain desired applications such as load capacity and orientation of the clamping action.
They are commonly used in construction to lift or handle large loads. These are easy to availability and mainly used for lifting heavy loads such as rails, girders, pipes, etc., and are also used in factories and foundries.
Applications of Material Handling Clamps
Heavy loads of bricks, blocks, and other building materials are moved and placed using material handling clamps in construction.
#19 Mitre Clamp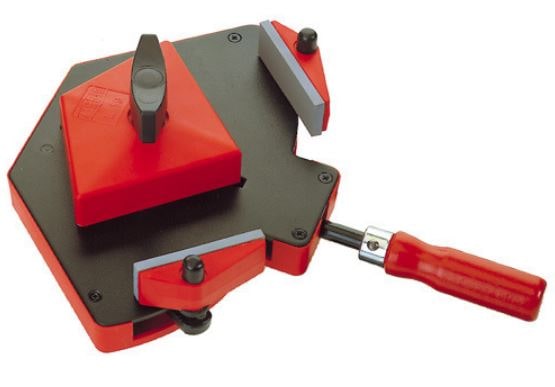 Mitre clamps are designed to hold two pieces that are actually mitered ends at right angles. These will usually be two pieces of wood, which are pushed together by clamps to keep them tight and stable while you're working on them.
There are more complex mitre clamps with rigid frames and movable jaws. Even the basic types of this clamp will be able to get the job done quickly and easily if used correctly. You can get a variety of mitre clamps with multiple parts to make the tool more versatile, reliable, and functional.
Application of Mitre Clamps
In picture framing, mitre clamps are used to hold the frame's corners together while they are being joined.
When joining two pieces of wood at a 45-degree angle, mitre clamps are used to hold the pieces in place.
#20

Parallel Clamp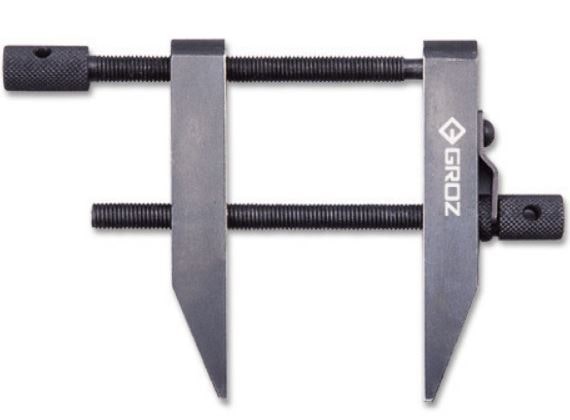 A parallel clamp is designed with one-handed triggers that pressurize the clamped material by two parallel vertical jaws. They are similar to F clamps, in that a parallel clamp includes a short rod that slides in.
Due to their wide opening capacity, they are used to fix workpieces on large surfaces such as tabletops, and doors.
Application of Parallel Clamp
When working with wood, parallel clamps are used to hold boards, panels, and other pieces of wood together while being glued or joined.
Read Also: Different Types of Allen Wrench and Their Uses [Pictures]
#21

Picture Frame Clamp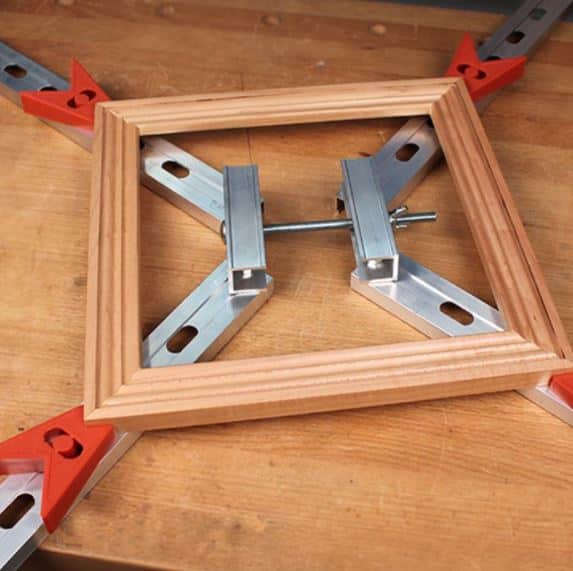 A picture frame clamp consists of four miter clamps that are joined together to make space for a square or rectangular picture frame. The mitered ends provide the frame to come together nicely, and they are held together with clamps.
There are various designs for this clamp type, but the most popular include a central screw that is used to clamp and adjust the frame pieces. These are suitably used in the making or creation of photo frames.
Application of Picture Frame
Picture frames are used in homes to display family portraits, decorative items, and other art.
Museums also use picture frames to display and safeguard priceless artwork and artifacts.
#22

Pinch Dog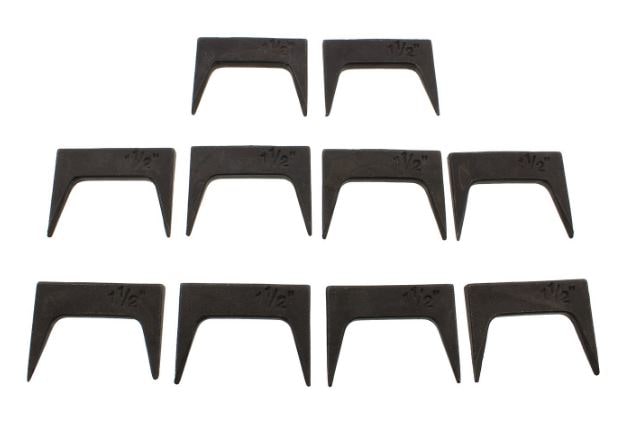 A pinch dog is a small type of clamp, shaped like a square bridge, with a pointed end. They are used when you have two pieces of wood freshly glued, you hammer in a pinch dog to hold the wood in place while the glue dries.
The tapered ends ensure that the wood is clamped tightly together and further pinch dog hammered, resulting in a strong and clean glue line. This clamp type is straight and shaped like a stable. They are mostly used in woodworking applications.
Applications of Pinch Dogs
In conventional joinery methods like mortise and tenon joints, pinch dogs are also employed.
#23

Pipe Clamp
As the name suggests, the pipe clamps are designed to use with pipes. These types of clamps are similar to a sash clamp but instead of being a flat bar of a long piece of metal, it has a round shaft. This part goes around the pipe and can be tightened with a screw.
The length of the clamp you use is determined by the length of the pipe and you can add more tubes to the clamp to make it longer. The clamp jaw is easily adjustable but gives a firm grip in many positions.
Applications of Pipe Clamp
Plumbing applications involve using pipe clamps to hold fittings and pipes together while they are threaded, welded, or soldered.
#24 Power or Pneumatic

Clamp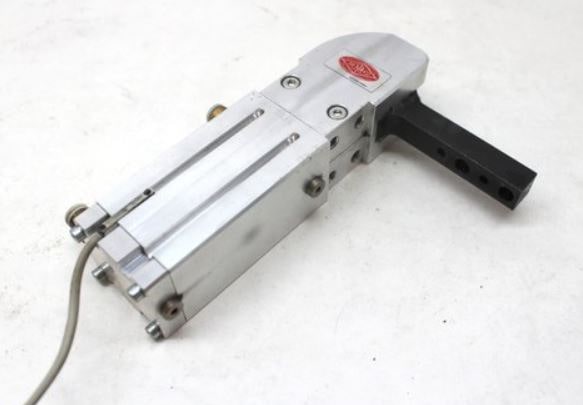 Power clamps are so named because they provide a great deal of power and force in one swift motion. They are often automatic, set on a timer to clamp and unclamp at particular times. They are notably quite strong, although they are surprisingly lightweight and easy to use.
Power clamps are used in the automotive industry to increase productivity. Power clamps are also used on assembly lines and in the manufacturing industries because they save time by being operated automatically and minimizing manual intervention.
Application of Power clamps
Robotic applications use power clamps to hold and release components and other workpieces.
#25

Quick Grip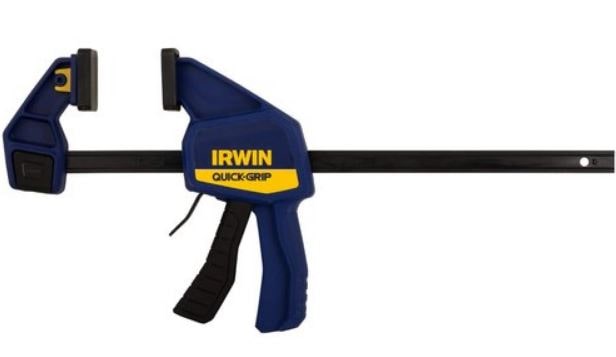 The quick grip clamp can be operated with just one hand as it only has a one-handle, but it offers adjustable pressure making it easy to operate.
This type of clamp is ideal for thin materials and pieces because the jaws are not close to each other. They will not do a good job of holding thick objects together because of the arrangement of their jaws.
Applications of Quick Grip
In applications involving auto repair, Quick-Grip clamps are also used to secure parts in place while they undergo maintenance or replacement.
Read Also: What is Gear Cutting? Its Advantages and Disadvantages
#26

Quick Action Clamp
These types of clamps are designed to be used with one hand, making them powerful and strong but easy to use without any hassle. This feature allows you to hold the clamp, as well as the item you need clamping.
It is built with a fast-release button that can be switched on with a single finger, allowing for extra fast movement. Most manufacturers combine this clamp with sealant guns because they are made with a similar design.
Applications of Quick Action Clamp
To hold components together while they are being put together during assembly, quick action clamps are used.
#27

Sash Clamp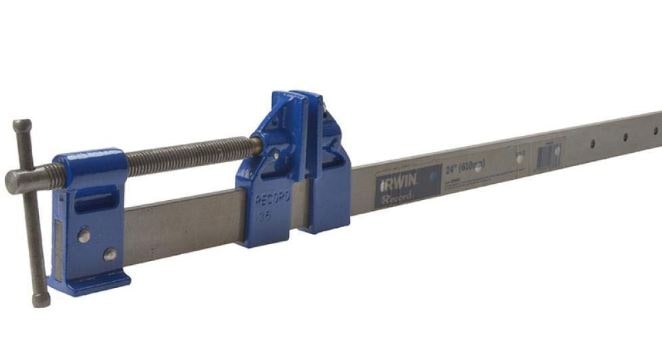 You need sash clamps if you're working on larger projects like cabinets or sash windows. Generally, more than one has to be used at a time to ensure that there is a firm grip and stability.
These clamps have a long bar that is made to hold large objects tightly. A fixed jaw is provided on the long bar that can be loosened or tightened with a screw. They also have a sliding jaw that can be moved along the flat bar to secure the project at various points.
Application of Sash Clamp
Metalworking applications also use sash clamps to hold metal components together while they are brazed or welded.
#28 Scissor Clamp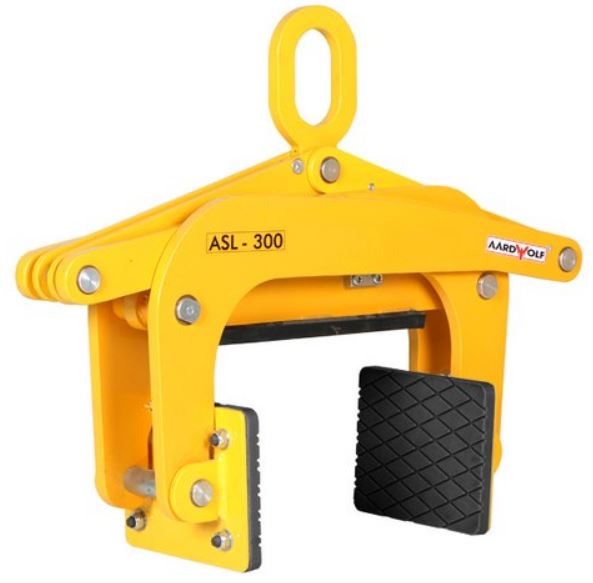 This type of clamp is similar to lifting clamps. This clamp is the one that uses the load being lifted to apply the clamping load. The scissor clamp has rough clamping jaws, which helps it dig better into the lifting part and enhances grip.
Application of Scissor Clamp
In warehouse operations, scissor clamps are used to lift and move bulky pallets of merchandise from one place to another.
#29

Screw Clamp
This type of clamp is similar to a power clamp in that it provides much greater strength and stability, but the main difference is in operation. Unlike power clamps that can open and close in one motion, these clamps have a thread and handle that need to be screwed on.
Threads are specifically intended to make the process as fast as possible but the action still takes a longer time.
Application of Screw Clamp
Screw clamps are often used to lift and hold large machinery and other items in industrial manufacturing applications.
#30

Sheet Metal Clamp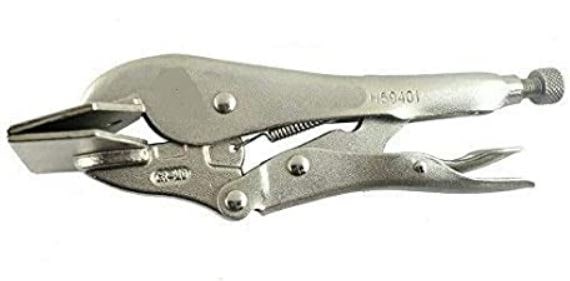 These types of clamps are similar to a locking clamp, but it is designed specifically for sheet metal. The clamping mechanism of this clamp is very wide, which makes it perfect for wide but flexible materials such as sheet metal. This rare design makes it useful for welding.
Read Also: Different Types Of CNC Machine [Complete Guide] Explained
#31

Sliding Clamp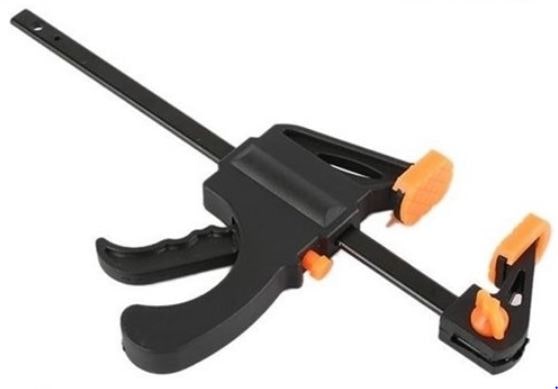 These clamps are also known for bar and F clamps. They offer a wide clamp opening, making them perfect for larger projects and woodworking. They are available in different lengths, also quite long, allowing users to work on large projects.
You lay the project on the flat surface of the bar and then slide it up to close the head and hold the project tight. They come in a variety of styles and forms but basic sliding clamps are essential for large projects.
Application of Sliding Clamp
Sliding clamps are frequently used to secure boards and other materials while they are being cut, shaped, or glued.
#32

Spring Clamp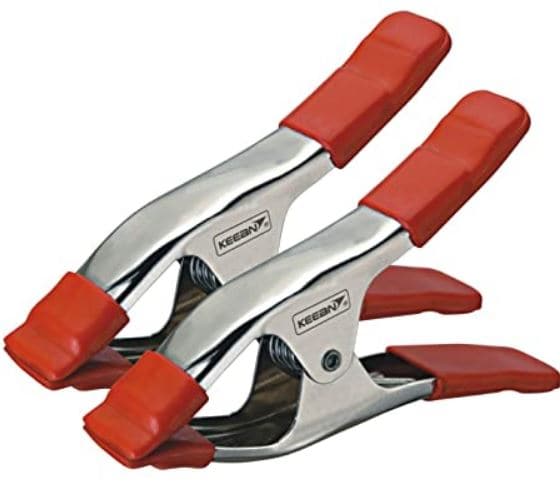 These are the smaller type of clamps, which are handheld and operated by means of a tension spring. Once they are clamped in place, the spring assures that they hold tight and do not move, giving the user a solid grip.
The clamp handles are covered with PVC which ensures you won't injure yourself while working with them and they are often removable. If the PVC covers on the tips are removed, you can use them for soldering work. They are used to clamp woodworking projects together or to hold the wire for beading and jewelry projects.
Applications of Spring Clamps
For holding backdrops or other objects in place while taking pictures, spring clamps can also be used.
In arts and crafts projects, spring clamps are used to hold materials together while they are being assembled or glued.
#33

Step Clamp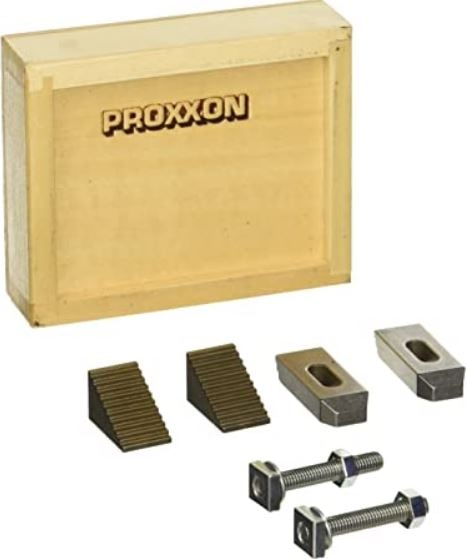 These types of clamps can be used in a variety of industries but are most commonly seen in milling and machining. They are made of metal with a polished finish and are easily recognizable by their edges that look like a set of steps.
A step clamp will require bolts with clamps, clamp supports, and nuts to fix the clamps in one place. These are simple designs and cheap to buy and easy to operate but very useful. You must use step clamps with step blocks in order for them to work properly.
Application of Step Clamp
Workpieces are frequently held in place while being machined using step clamps.
#34

Toggle Clamp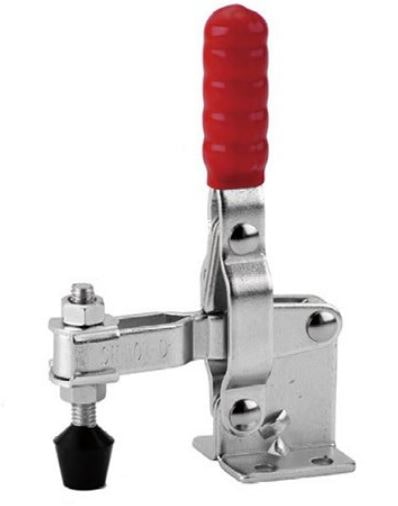 These types of clamps are relatively small and are commonly used for milling, woodworking, metalworking, and drilling. They have a flat bar that holds the work in the required position. It also has a handle that can be pushed forward or backward to loosen or tighten the grip.
The handle controls the clamp and also includes pins and levers to increase the force of pressure. These parts allow objects to be held tightly so that they don't move or come apart when you apply pressure to them.
Application of Toggle Clamp
When cutting, drilling, or welding metal, toggle clamps are frequently used to hold metal sheets, tubes, or bars in place.
#35

Trigger Clamp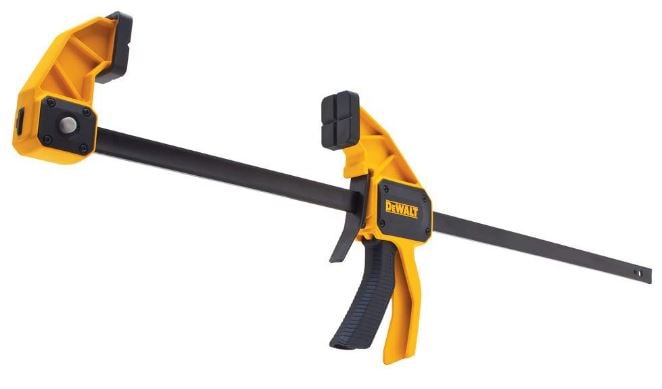 These are strong and handy clamps that use a trigger to adjust the head and jaws of the clamp and can be operated easily using just one hand. The trigger is controlled by a button or a lever, meaning the clamp can be released quickly and easily.
Due to the design of the clamp, they are used with only one hand. They are easy to operate, strong, and reliable, and can be regularly found in workshops as well as homes and gardens.
Read Also: Different Types of Reamer Tools and Their Applications
#36

Web or Strap Clamp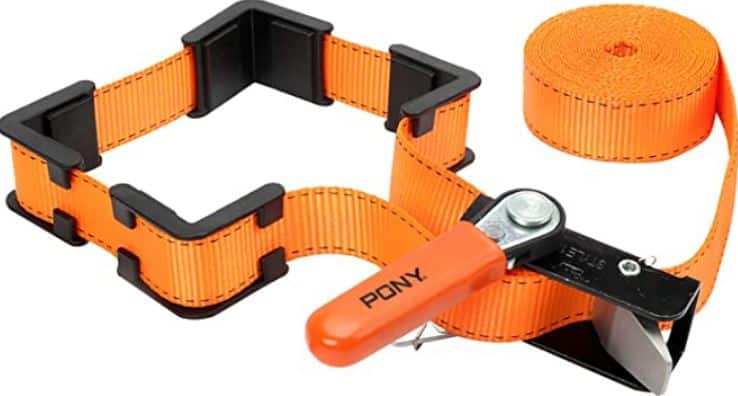 If you are working on a frame, you will need a web clamp. These types of clamps are generally used in furniture making and woodworking. They use a rope or cloth belt that is tied around an object and tightened using a ratchet.
These types of clamps are used to tighten themself to a large object, then to load it onto a truck, or to hold it in place during work. You can also use the tool with or without a corner grip piece to deliver pressure more evenly and not worry about damage to the item.
#37

Wire Rope Clamp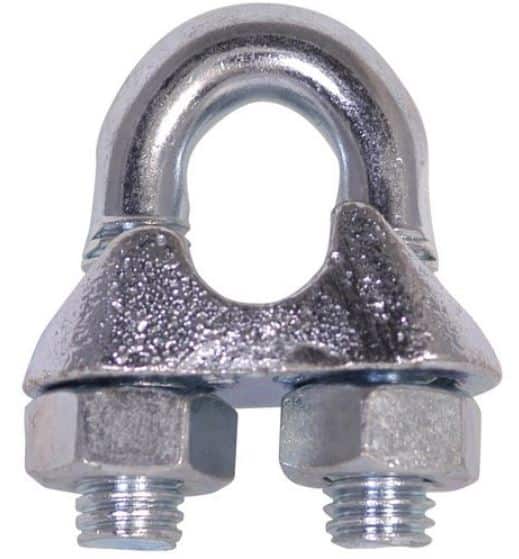 Wire rope clamps are a smaller type of clamp and are used to fix the loose end of a wire rope loop to the rope itself. They have a saddle and some bolts that hold everything together. These bolts help the clamp to tighten or loosen the grip.
Due to the limited application of this clamp, they are not easily found in most stores. If you want it, you'll probably need to order these clamps so you can find the right size for your wire rope.
How To Use Clamping
Always place a piece of scrap wood between the clamp's jaws and the wooden parts so as not to damage the clamped part.
Try applying a clamp load vertically or perpendicular to the part to prevent slippage.
Always use at least two clamps to prevent rotation whenever you use them.
Always be careful to not to over-tighten the clamp. Beuacase over-tightening may damage the clamp.
Application of Clamps
A clamp is a handy tool used to securely hold a workpiece in place while it is working and is used for a wide variety of applications, which are below:
In woodworking, a clamp is used to hold a piece of wood to a workbench to perform various types of woodworking, such as cutting or chasing. A clamp can be a useful tool to hold the workpiece uniform while painting.
In metalworking applications such as welding, grinding, or manufacturing, a clamp is an ideal tool to use to hold materials like steel, iron, aluminum, and Copper, etc. They also have great application in drilling by holding workpieces firmly in place on a drill table.
In the filing process, you apply pressure to file the metal, which will cause the workpiece to move. Therefore, clamps are used to avoid this. For gluing purposes, the clamps can be used to hold parts in position while waiting for the glue to dry.
Wrapping It Up
As you know now, there are many varieties of clamps available. If you want a clamp in your work, you will need to choose the clamps based on the type of material you are clamping together and why.
---
That's it. If you have any questions about "types of clamps" you can ask in the comments. I'll respond, and if you like this article, then share it with your friends.
Want free PDFs, simply subscribe to the newsletter.
Download PDF file of this article:
Read more about Workshop Tools in our blog: