In this article, you will learn what is conveyor system? Its parts, functions, and types of conveyors are explained with pictures. 
Also, you can download the PDF file of the article at the end of it.
What is Conveyor System?
A conveyor system is a type of mechanical handling equipment that is used to transfer material from one place to another. Conveyors provide ease of use in applications such as the transportation of heavy or bulky materials.
Conveyor systems permit fast and efficient transportation of a broad variety of materials. These are extremely popular where there is a need to handle the materials and move the packaging objects regularly. They also have user applications, as they are often seen in supermarkets and airports.
Nowadays there is a variety of conveying systems available to see and use as per the needs of different industries. The most commonly used conveyors in industries are belt conveyors and chain conveyors. So let's discuss the essential parts of the conveyor system.
Read Also: 16 Different Types of Sprockets and Their Applications
Parts of A Conveyor
Following are the three parts of a conveyor:
Belt support
Pulley system
Drive unit
1. Belt Support
Belt support is a component of a conveyor system that allows the belt to move smoothly without any restrictions.
If the support unit is not stable, the belt fails if there is a heavy object on top of it, and this causes the belt to not move as smoothly or as fast as it should. The belt remains tight and moves efficiently by the use of support units.
2. Pulley System
It is the external component that is used to control the speed of the belt. Each unit has two pulleys, one is operated by electricity, and another one is idle. And modern conveyor systems may have extra rotors on the entire frame.
3. Drive Unit
The drive unit allows the conveyor system to move or operate. It has a counter bearing which effectively keeps the moving components. It also provides for moving the belt in the opposite direction and managing the repeated adjustments in the direction for some systems.
Types of Conveyor System
Following are the types of conveyor systems:
Ball transfer conveyor
Baggage conveyor
Belt conveyor
Bucket conveyor
Chain conveyor
Coal mine conveyor
Chute conveyor
Magnetic conveyor
Overhead conveyor
Pneumatic or vacuum conveyor
Powered roller conveyor
Roller conveyor
Screw or Auger conveyor
Slat or apron conveyor

Vertical conveyor

Vibrating conveyor
Walking beam conveyor
Wheel conveyor
Read Also: List of 13 Different Mechanical Properties
1. Ball Transfer Conveyor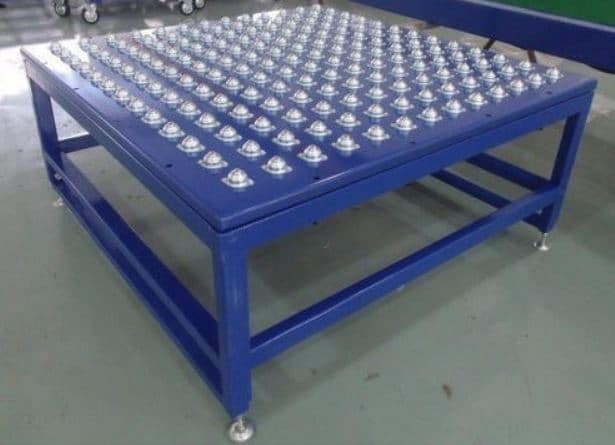 Ball transfer conveyors consist of a series of ball casters to allow for multi-directional transport of the product. They are used at packaging and assembly lines where the product needs to be transported in more than one direction.
When multiple conveyor lines are combined, they are used to move products from one place to another. Multiple sizes and load carrying capacities are possible using this conveyor. Ball transfer conveyors are not self-driven and require external forces to move the product.
2.

Baggage Conveyor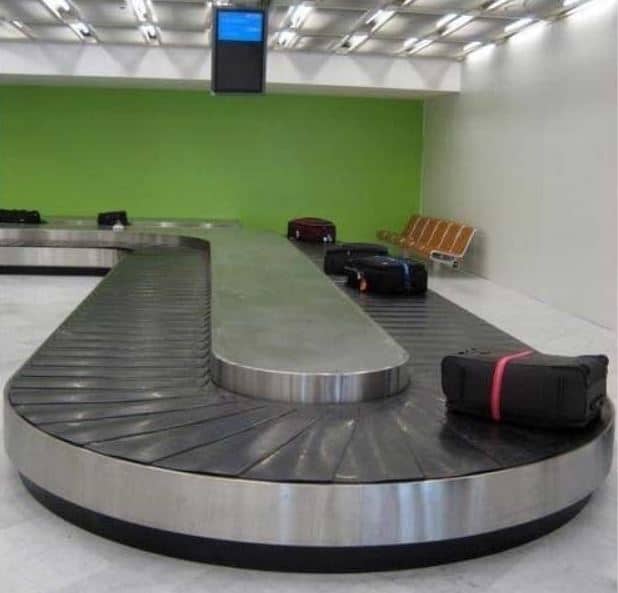 These types of conveyors are used for transportation in bagging handling systems. If you have traveled to the airports, then you must have known that there are baggage claims on which you can check your luggage.
On one side of the baggage conveyor, you drop your items, from the far side they come after checking. This rotates the bags in a circle. You are most likely to see a conveyor belt in a store or at the airport.
3.

Belt Conveyor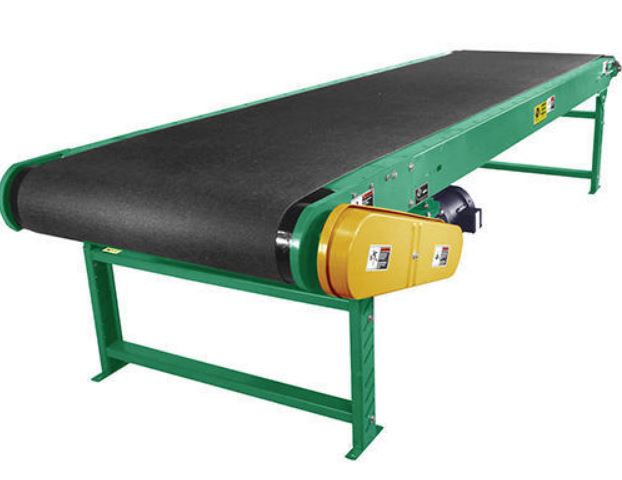 A belt conveyor is a carrying medium that uses a continuous belt to transport products in a straight line or through changes in height or direction. A conveyor belt uses two end-pulleys that loop over a long section of thick, which is a durable material.
As the motor in the pulley moves at the same speed and rotates in the same direction, the belt moves between the two. If the items are heavy or bulky or if the conveyor belt is moving them over long distances, rollers may be installed on the sides of the conveyor belt for support.
A belt conveyor is the cheapest conveyor, simple in construction, and easy to use. It is used to move bulk materials like grain, ore, coal, sand, etc.
4.

Bucket Conveyor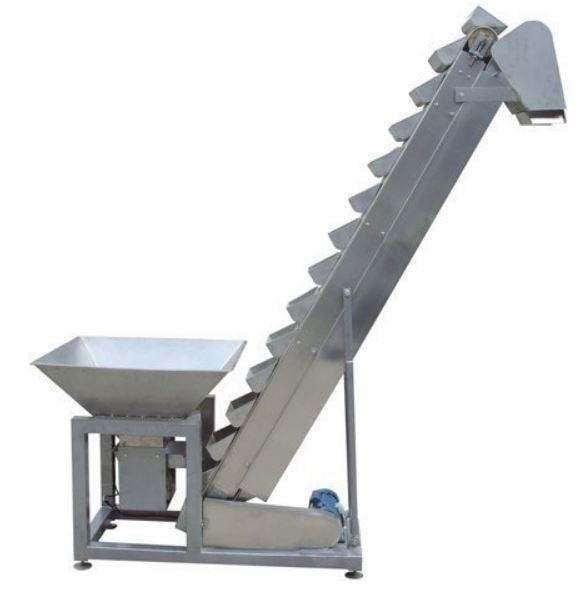 A bucket conveyor is also known for a grain leg. It is a mechanism for carrying flowable bulk material vertically in an assembly line. It uses multi-sided containers connected by cables, belts, or chains to move products or materials.
These conveyors are made up of an interconnected loop of buckets that remain flat as they move from horizontal to vertical so that their objects do not fall. These conveyors can provide easy transport, huge capacity, and require little maintenance. Used in the food, agriculture, pharmaceutical, chemical, and glass industries.
5.

Chain Conveyor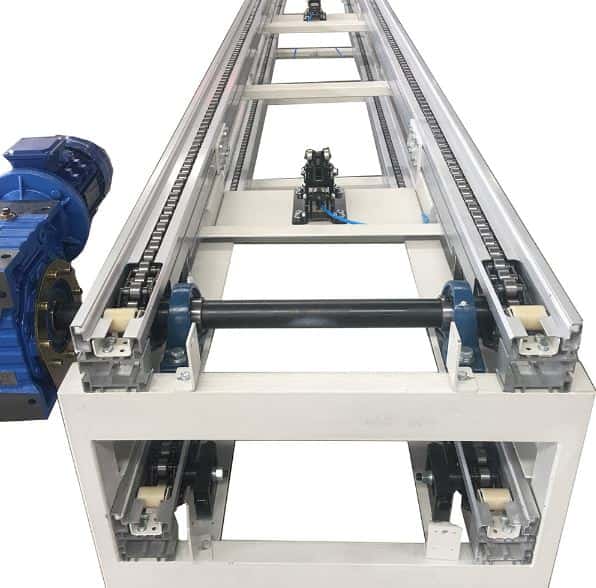 A chain conveyor is a material handling device attached to moving members (chain or cable) typically used to move materials through production lines. A chain conveyor consists of a series of gears connected in a continuous system by a chain.
Typically, each gear has teeth that form a free rotation along the chain. Using chain conveyors can provide you a high load capacity, and have the possibility of transporting very wide or long materials. Chain conveyors are mainly used to move or transport heavy unit loads.
6.

Coal Mine Conveyor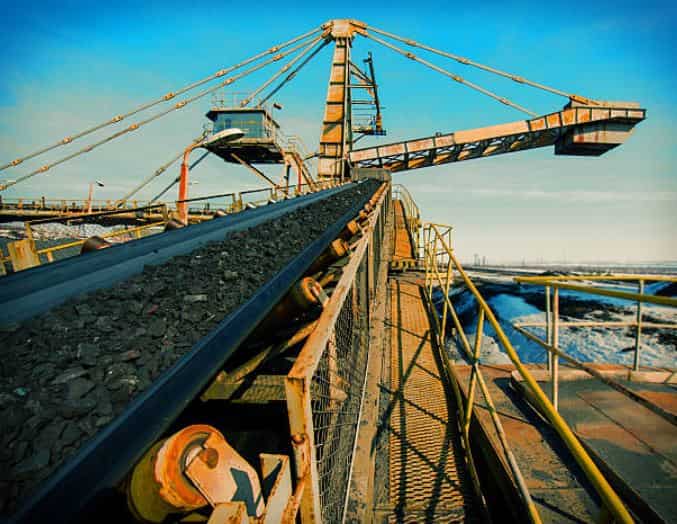 These conveyors are an excellent way to transport large quantities of coal over very long distances. Coal conveyor equipment can cut down on the cost of operation due to low power consumption.
The coal conveyors can traverse difficult terrain more efficiently than truck or rail systems, and have the benefit of continuous transportation. It is suitable to be installed for handling coal at an inclination of up to 20° from horizontal.
Read Also: Coal Handling Plant Layout
7.

Chute Conveyor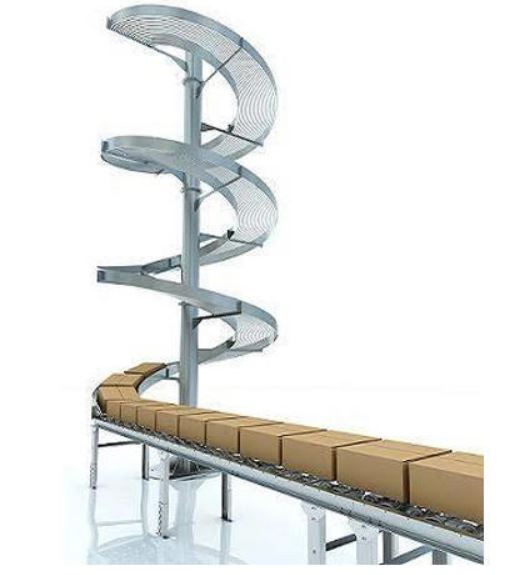 Chute conveyors are one of the few expensive means of conveying materials. They use gravity to move the product from one level to another along smooth surfaces. Chute conveyors are used for providing increased shipping areas.
A spiral chute can be used to move objects between floors with the minimum space required. These are designed to have a low coefficient of dynamic friction, allowing the product or material to slide smoothly. Useful in scrap handling, packaging, or mail handling, etc.
8.

Magnetic Conveyor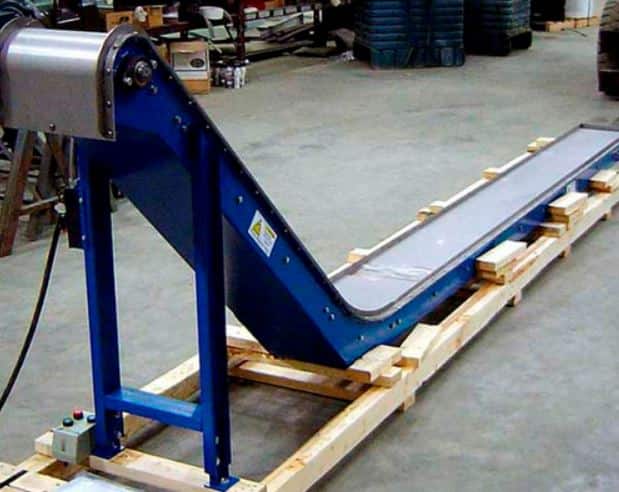 These are types of conveyor systems that have either a magnetic slider bed or a magnetic pulley that is used to move ferrous material in a vertical or reverse direction.
This conveyor has magnets on its bed that hold the ferrous, or iron-containing parts, and should run on any industrial conveyor. The magnets are placed correctly, providing accurate magnetic holding power for these parts. Magnetic conveyors are used to removing ferrous chips from machining centers.
9.

Overhead Conveyor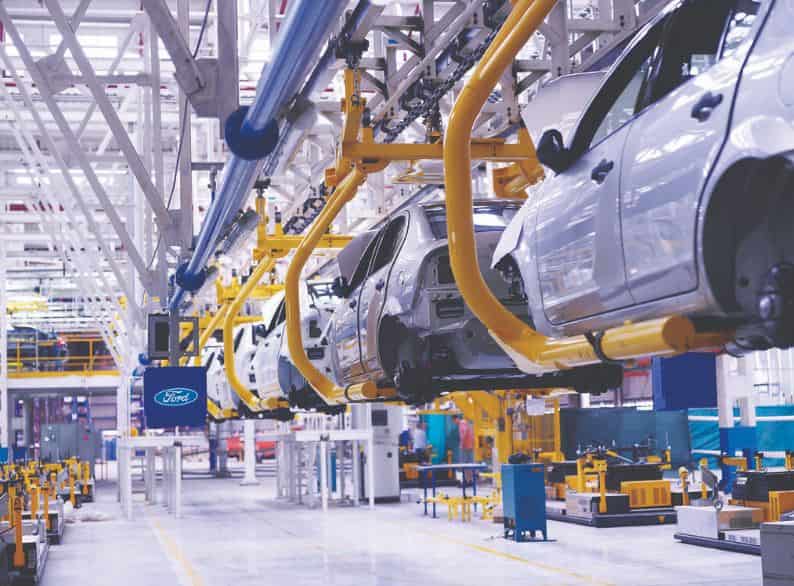 An overhead conveyor uses a single rail, which can be manual or driven. These are used to perform conveying and loading tasks in work areas. They are attached to the ceiling using a trolley or carrier moved by chains, or cables.
These types of conveyors are designed to follow a continuous path, it can change directions from horizontal to vertical or vice versa. This can provide you with better use of floor space, carry items in bulk and deliver cartons or packaging. The conveyor is primarily used in assembly line inspection and/or processes.
10.

Pneumatic or Vacuum Conveyor
A pneumatic vacuum conveyor is a unique dry material transfer system that is dust-free and without human touch. A pneumatic conveyor works on the basis that bulk cargo can be moved via air through pipelines.
This blowing air exerts a propulsive force on the bulk material and thus transmits it through the conveying line. These conveyors require less maintenance, which can give increased safety, less leakage, and duct leakage. Pneumatic conveyors are used in burner feeders, metal powder transporters, and recycling.
Read Also: Application of Pneumatic System [Explained with Examples]
11.

Powered or Live Roller Conveyor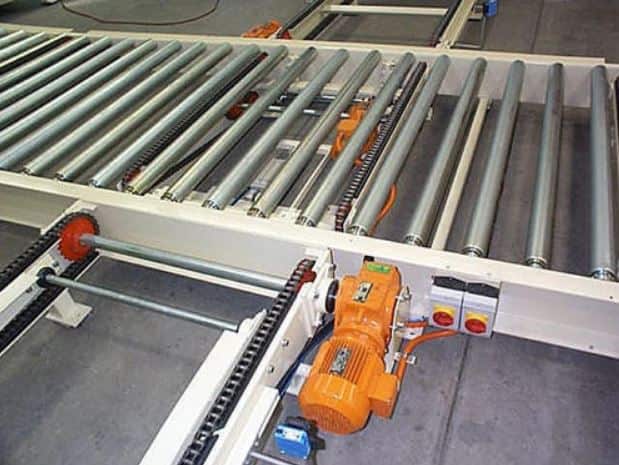 These are types of roller conveyors that use motorized rollers to move the products or materials. Conveyor rollers are driven by belts, chains, or O-rings depending on the load. They are effective in horizontal transport over long distances.
Conveyor speed and the process can be easily controlled and the risk of damage is reduced as the parts never touch while working. They are mainly used in food handling, steelmaking, and packaging industries.
12.

Roller Conveyor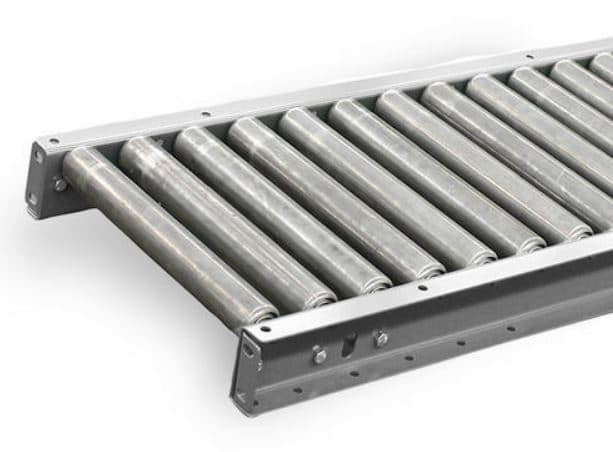 Roller conveyors have parallel rollers fixed to the frame to convey the product by gravity or manually. These rollers are not self-powered and use gravity to transfer the object, or manually when mounted horizontally.
These types of conveyors can be installed straight or curved depending on the purpose of use and available floor space. It is a very fast and safe load transport system because they are built with a variety of sensors and equipment. The application in which it is used is at a loading dock, baggage handling, or on the assembly line.
13.

Screw or Auger Conveyor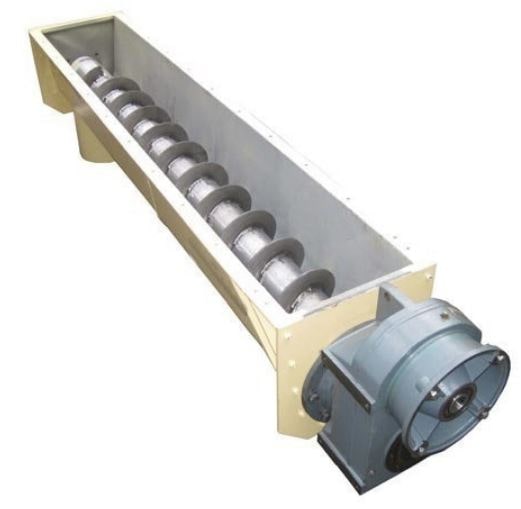 A screw conveyor uses a rotating helical screw blade with a uniform tube to move or transfer fluid or granular material easily. It consists of a helical screw or steel auger that rotates within a shaft, driving the work depending on the screw design and rotational direction.
In this, the rate of volume transfer is equal to the spinning rate of the shaft. These types of conveyors are capable of handling large quantities of material with slow to fast flow. They are used to transfer goods such as food waste, wood chips, cereal grains, animal feed, boiler ash, meat, and bone meal.
Read Also: 13 Different Types of Screw Threads with Images
14.

Slat or Apron Conveyor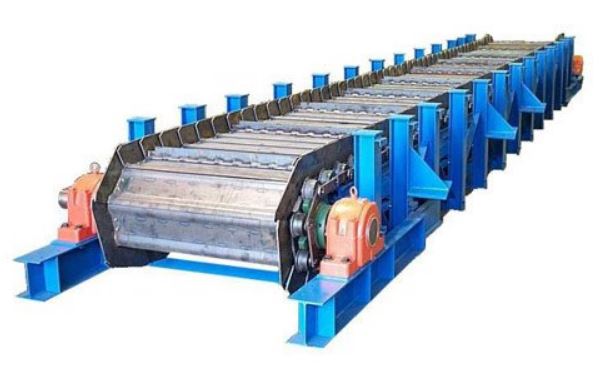 The slat conveyor employs a chain-driven loop of slats to move the objects from one end to the other. A slat conveyor consists of a slat and chain system for moving components on an assembly line.
The steel panels are connected in series with special chain attachments, and the chain is powered by an electric motor and gearbox. This allows for a wide variety of heavy-load conveyor applications. A slat conveyor can convey hot, oily parts or items through a heat drying process.
15.

Vertical Conveyor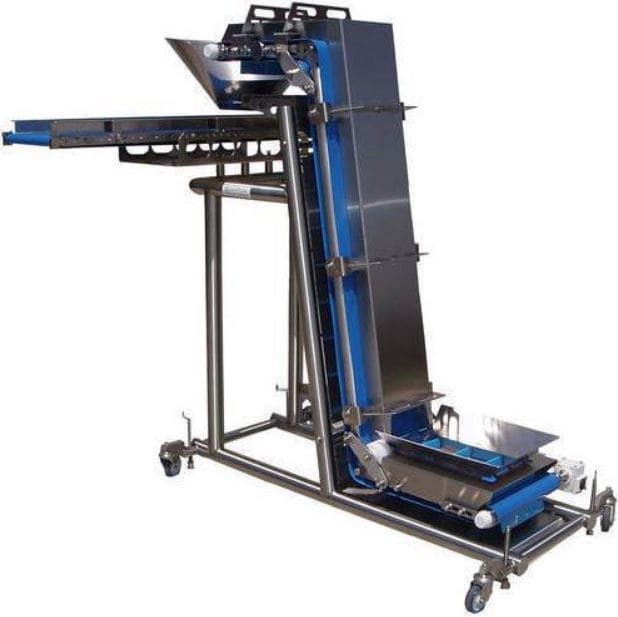 A vertical conveyor is a conveying machine that uses rotary or linear vibration to move products automatically from one level to another. These types of conveyors can move goods from one height to another, raising or lowering the load in the supply line in various stages.
Vertical conveyors are located between two horizontal conveyors and can hold the movement stable by vertical offset. It can provide different sizes and load capacities depending on the application. Vertical conveyors are used to decreasing the floor space, bundling multiple floors together, vertical accumulation systems, and many more applications.
16.

Vibrating Conveyor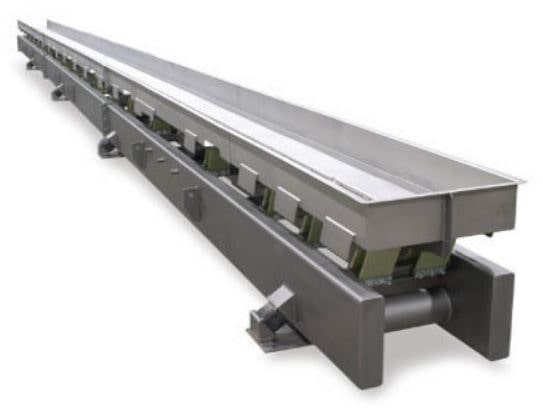 A vibrating conveyor is a machine consisting of a solid conveying surface that is rotated sideways to form a trough. They are capable of transmitting both static and dynamic forces to their supporting structures.
These conveying machines can move materials downward, horizontally, or up to a 10-degree slope. Vibrating conveyors are more comfortable to clean surfaces and require less maintenance than other types. They are used to transfer dry, bulk materials such as aggregate, gravel, coal, etc.
17. Walking Beam Conveyor
These types of conveyors use a combination of stationary support and moving support to guide workpieces through construction cells. If the object supported in a stationary position is lifted by the conveyor and sent to its next position, where another construction step is performed.
This action is repeated throughout the length of the conveyor. A walking beam conveyor can provide easy handling of materials without a human interface. These are used on automation and assembly lines, where objects need to be located at specific places in an orderly manner.
18. Wheel Conveyor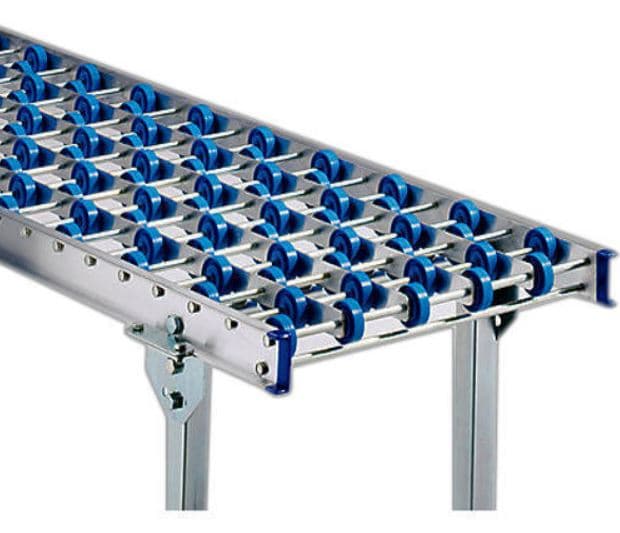 The wheel conveyor consists of a series of wheels supported in a frame, on which objects are moved manually or flown by gravity. This conveyor is made with a set of wheels and wheel spacing based on load requirements and application.
Wheel conveyors are used for object or package handling applications. They are generally employed for loading and unloading trucks and for carrying packages, pallets, etc.
Advantages of Conveyor System
It has many advantages when considered as a mechanical means of conveying bulk materials. Well, the following are the advantages of conveyor system:
A conveyor system is one of the cheapest process to move material over long distances.
The height of the conveyor may change and the material can be seen on the belt of the conveyor while conveying.
Belt conveyors may have designed with metal separators and it has trippers to unload the belt at almost any location.
Belt conveyors can turn at one end to move the discharge along an arc. Also, Sidewalls can be added to the belt to prevent product leakage.
In conveyors, weigh belt sections can also be added for continuous product weighing.
Disadvantages of Conveyor System
Following are the disadvantages of conveyor system:
The general design of the belt conveyor is opened. So there is a possibility of product fall. If you need to install covers, it can be expensive.
Sticky material can become trapped on the belt and transfer to the return side, roll, idler, and pulley.
If the material is sticky, the belt can be difficult to clean and is usually not very successful resulting in a belt replacement.
Belt discharge always carries material and this becomes a housekeeping problem.
Odder control is nearly impossible.
Application of Conveyor System
Conveyors are used for different purposes in a variety of industries. They are generally used in industries such as mining, manufacturing, automotive, food processing, packaging, pharmaceutical, and bottling.
All types of materials are transported by the conveyors. Some of the items used by the conveyor are beans, nuts, canned foods, and vegetables, bottles, drink cans, automotive parts such as engines, car frames, and tires, medicine or supplements such as pills, large powders, furniture, and more.
Closing It Up
As we discussed above, a conveyor system is a method of mechanical handling equipment that moves objects from one place to another. When a conveyor is installed, accidents are reduced. As a result, product breakage and damage are also reduced.
So now, I hope I've explained everything about the conveyor system types, and their functions. If you still have any doubts or questions on "types of conveyors", you can ask in the comments.
If you like this article then please share it with your friends. Subscribe to our newsletter to get notified when we upload new posts.
Download PDF file of this article
You might like to read more in our blog: