Choosing the ideal air impact wrench for your tasks is almost impossible, right?
Even though the impact wrench you chose seems to have perfect specs, when you pull the trigger, it can't take off that rusty bolt in your car. 
So, you contact the seller to ask why. "Because your air compressor sucks," they said.
To avoid this scenario, I sum up all of my experiences to choose the best air impact wrench for your needs.
Checkout the best air impact wrench guide on Gmundcars.com
Let's see what they are!
Tips to choose the best air impact wrench.
Drive size
Torque
Speed
Stubby or standard version
Air consumption and pressure level
Noise
#1 Drive size
Bigger drive sizes are meant for more heavy-duty tasks. When buying air impact wrenches, there are 2 commonly used drive size:
1/2" – the most common drive size of air impact wrench. It's probably what you need if you use it for your car.
3/8" – a smaller drive size, used for tight space and tasks that don't require high torque.
Any other drive sizes will be way too big (3/4",1") or small (1/4") for your everyday needs.
Read also: 7 Tips to Choose The Right Cordless Ratchet (Buyers Guide)
#2 Torque
Higher torque means higher power.
A "good" 1/2" air impact wrench usually has about 400 to 1000 ft-lbs of torque.
However, you will see a few different kinds of torque rating:
Forward torque – maximum torque the tool can tighten
Reverse torque – maximum torque the tool can loosen
Nuts-busting torque – a peak value of reverse torque
I personally recommend you to take the nuts-busting torque with a grain of salt. This number is always much higher than forward and reverse torque. And I think it serves no purpose beyond making a tool appear stronger than others.
In reality, chances are you will never get to the nuts-busting torque that the manufacturer got in their lab.
#3 Speed
There are 2 factors you need to consider when it comes to speed.
RPM – Revolutions per minute
RPM indicates how fast the tool can spin the socket. The higher RPM, the faster you pull off your jobs, but the harder it becomes to control the tool.
So, you don't want the RPM too high or too low; from 7000 to 9000 RPM is good enough for an air impact wrench.
One more important thing about RPM is the variable speed trigger. There will be times you want things to be fast, times you want things to be slow.
But you don't want to overtighten any bolts in your car or even break it. 
IPM – impacts per minute
IPM (or BPM – blows per minute) indicates how many times the hammer inside the tool strikes in 60 seconds.
Higher IPM means less vibration. It also helps the operation smoother when the tool is facing resistance.
Save your wrist with an air impact wrench having from 1,000 to 1,600 IPM.
#4 Stubby or standard version
Stubby impact wrenches are … stubby, obviously! They allow you to work in confined spaces. However, you have bad news and good news.
Bad news, stubby versions' torque ratings are lower compared to standard ones, from 300 to 500 ft-lbs. But those numbers are still strong enough to remove your car lug nuts off within seconds.
Good news, stubby air impact wrenches are relatively cheaper and much lighter. As a mechanic, I think air impact wrenches' weight is not really a big deal. If you regularly work with cordless tools, you know exactly what I'm talking about.
#5 Air consumption and pressure level
Ok, this is the tricky part for some people.
When you mention air consumption and pressure level, it will come down to the question:
What kind of air compressor do you have?
CFM & SCFM – Air consumption
CFM (cubic feet per minute) of the air impact wrench indicates how much air the tool uses.
SCFM (standard cubic feet per minute) of the air compressor is CFM measured at a specific condition (68°F and 36% humidity at sea level.) Everything has to be apple-to-apple, right?
Usually, SCFM is lower than CFM.
So, find the SCFM@90PSI rating of your air compressor, and then use the inequation below to pick the one true tool for you:
CFM@90PSI < (SCFM@90PSI)/1.5
For example, your air compressor has an SCFM@90PSI of 20, then you can buy any tools that have CFM lower than 20/1.5=13.3
Unlike an air sander or paint sprayer, an air impact wrench is an intermittent tool. That means you use it for a few seconds, and then stop, and then continue. So usually, impact wrench CFM will be at 25% use factor (15s on, 45s off), not at full load.
PSI – Pressure level
Air impact wrenches need an input pressure of 90 PSI. Note that this number must be measured at the tool's inlet.
So, to make the tool achieve the maximum torque and speed, I always have to set the air compressor PSI to more than 100. Only then will it be able to make up for the pressure drop.
You can minimize the pressure loss by:
Shorten the hose length: the longer the hose, the more PSI it will drop
Don't use undersized hose's diameter: use at least 3/8" air hose
#6 Noise
No one likes noise, even an extrovert!
I agree. Air impact wrenches are noisy. But it won't make you deaf after using it a couple of times. Trust me, I have been using them for the last 10 years, and I was writing this article while listening to my favorite song.
Or if your neighbors are not nice enough, or you just hate noise so bad. Go for tools that have silence technology. They cost just a bit more, and they won't give your eardrums a hard time.
Our top picks
To help you make the buying decision easier and less confusing, here are my recommended air impact wrenches (which I have been using for years).
Ingersoll Rand 2235QTiMAX
The Ingersoll Rand 2235QTiMAX is one feature-loaded air impact wrench. It is one of the best in the game, putting every air-impact wrench aspect into consideration. However, its main downside may be the high price tag, but trust me, you're getting outstanding quality in return.
It has an impressive 900 ft-lbs torque that lets you loosen or tighten those bolts in no time. When coupled up with a speed and impact of 8500 RPMs and 1220 IPMs, this amount of power makes the Ingersoll Rand 2235QTiMAX every mechanic's dream. You can't name a better air-impact wrench.
The tool is light but heavier than the average 1/2″ air impact wrench. Nonetheless, it has dimensions to match the weight. You can't fail to notice the plastic part on the rear half of the wrench. Yes, it helps relieve it of much weight but ends up bringing an imbalance in the weight distribution of the tool. You might struggle to hold it for long periods.
However, even when the wrench records exceptional output performance, I'm glad to inform you that its air consumption is nothing from the ordinary air-impact wrench. Going at 6 CFM@90PSI, you're almost good to go with any appropriately-sized air compressor.
The Ingersoll Rand 2235QTiMAX can be pretty noisy. If you can't stand the 91.9dBA noise level, which I'm afraid you might not, you'll find remedy in obtaining ear-protection gear. Quite a downside, but not enough to make you forget its worth!
Ingersoll Rand 35MAX
The Ingersoll Rand 35MAX is a budget option wrench, most popular among DIYers. However, you get what you pay for, as it hardly meets half the torque of the Ingersoll Rand 2235QTiMAX but is perfect for light tasks. It hits the 450 ft-lbs torque mark, though.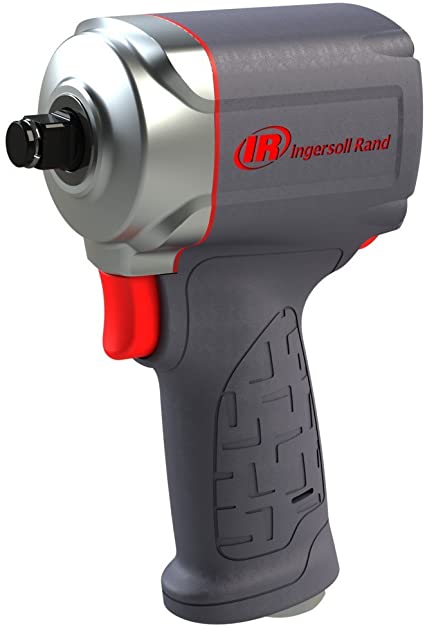 Moreover, this is a compact model, and at the same time, tiny enough to help you reach those odd positions along your engine block. And oh, the 2.4lb is friendly to your wrist, even if you were to work for long hours.
Let's talk about its consumption. This wrench only requires 4CFM air intake, making it easy to operate with an average air compressor. Safe that extra cash for a pair of noise-canceling gear. Yes, you'll be surprised by the amount of noise this wrench produces at full speed. Despite its small size, this wrench produces 96dBA of noise.
However, the Ingersoll Rand 35MAX makes up for its shortcomings with an affordable price, tiny structure, and a three-point power control mechanism.
Aircat 1056-XL
This is the best air impact wrench to go with if you're on a budget. Its torque rates at 550 PSI and only best convenient for DIY and other light tasks. The torque is almost twice what you'd get from a different similar-priced wrench.  However, to get this wrench working on an optimum, you'll need air; too much air. When you invest in a quality air compressor that works at 8CFM@90PSI, everything works out just fine.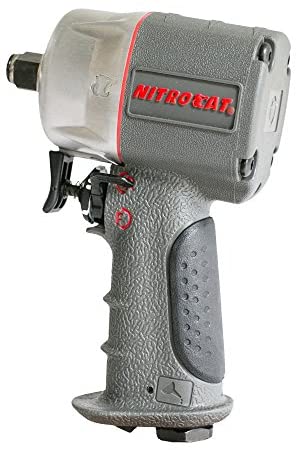 The Aircat 1056-XL is one of the quietest wrenches, even at top-speed operation. Its 85dBA is an excellent reward to you, as the user, and is bearable to the ear. The tool is tiny and compact, making maneuvering small spaces an easy task. It is also light (2.5 lbs) and comfortable to your wrist if you have to use it for a long time. However, the slim design makes it slightly uncomfortable to hold for big-hand people.
I would say this is a better performer when compared to most average-budget air wrenches. In addition, it's a budget option, and the noise reduction mechanism used in the tool is impressive. The major downside is that you can't use it for heavy tasks, and it needs too much air to operate.
Wrapping it Up
So, that would be it – all of my experience when choosing and using these impact wrench beasts. 
Just like your marriage, a good air impact wrench is not only about torque and speed. A good air impact wrench is completely nothing without a suitable air compressor. Keep that in mind, and you can easily pick the right tool for you.
If you like this article then please share it with your friends. If you have any questions you can ask in the comments.
Subscribe to our newsletter to get notification of new articles:
You might like to read more about Workshop Tools in our blog:
Images source: Amazon.com